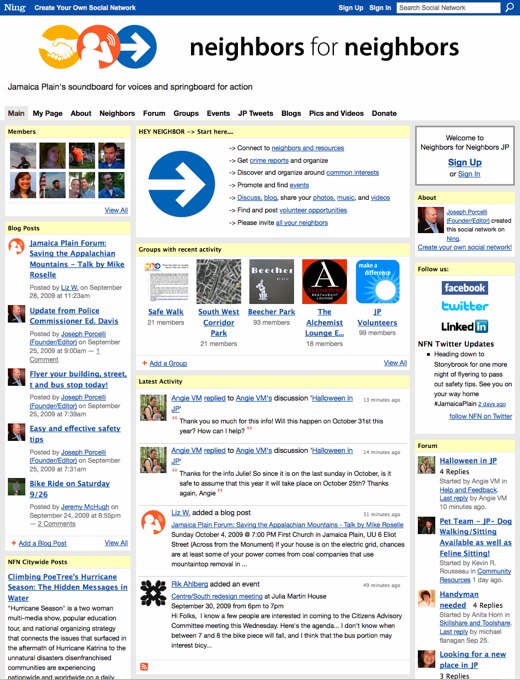 Ning Network Creator Joseph Porcelli is on a mission to make Boston a more neighborly, connected city. His weapon of choice? Ning Networks for Boston neighborhoods, each under the umbrella of Neighbors for Neighbors. The organization's website — from which each of the neighborhood Ning Network is linked to — states "Neighbors for Neighbors connects people who live, work and serve in a particular neighborhood to others who they don't already know. Neighbors discover common interests by sharing information via blogs and discussions and organize by joining or starting groups and posting events."
The Jamaica Plain branch of Neighbors for Neighbors has recently been in the news, after a spate of robberies occurred around a subway station. Porcelli stood outside of the Stony Brook T stop handing out fliers about the robberies to warn residents to be alert. His work — and success with the Neighbors for Neighbors project — landed him in the Boston Globe and on WBZ, the local CBS affiliate.
"We use the Ning Platform as a soundboard for voices and springboard for action — it's our neighborhood organizing platform," he explains. "In the case of the recent robberies at gun point, in partnership with the Boston Police Department we used the network to inform our members (neighbors) about the what had happened by posting blogs and sending broadcast messages and mobilized to educate our neighbors. We created a group for our SafeWalk program where we organized to pass out over 4,000 flyers to our neighbors on our street and Metro Stations in two days."
For other Ning Network Creators who think they might want to start similar networks in their own neighborhoods, Porcelli has some advice: to think of your Ning Network as a platform not a solution. "If you think of the network as a solution, the network is limited by your vision (how ever amazing it may be)," he says. "Partner with your elected officials, police department, public health department, community groups, churches, and everyone you can think of.  Reach as far deep into your community as possible."
No related posts.