Friends or Enemies — now on Ning
Ning Network Spotlight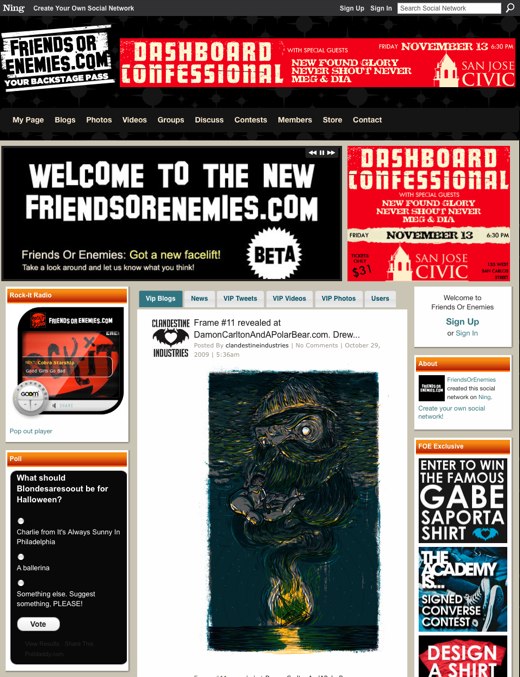 What do Fall Out Boy, Panic! at the Disco, and Katy Perry have in common? All three have their own profiles, interact with fans and post updates and need-to-know info on Friends or Enemies.  This Ning Network, which was recently re-launched on Ning, offers fans a way to connect with more than just these three; more than 30 other artists, musicians and groups make their online home on Friends or Enemies.
All the different musicians who are blogging on Friends or Enemies are listed on the lower right. Each one blogs about whatever he or she (or them) is up to, including the Gym Class Heroes. Each blog post from the group specifies who wrote it. Interested in what
Matt McGinley is up to? Then read only his posts. The same is true for Eric Roberts and other members of the group.
In addition to providing a way for fans to keep up with their favorite groups, Friends or Enemies is also working on engaging current members with contests. One popular one is a Friends or Enemies t-shirt design contest, where the winner gets their design printed up and sold in the FOE merch store. In order to enter, members need to upload their proposed t-shirt design to the group's comments, so it's worth it take a look to see what the members believe represents the 65,000 plus members of FOE — and their favorite musicians.