Hitting it out of the ballpark
Ning Network Spotlight
For baseball fans, October is an exciting month. After 162 games, the best teams in Major League Baseball compete for a shot at the winning the World Series. Ning Networks dedicated to baseball are also heating up — and becoming increasingly active —  this month. At CheckSwing, a Ning Network for players and coaches, members are congratulating the Islanders for their 2nd straight championship in the MSBL:
You'll see a number next to almost every member's name on Ballpark Chasers. That's the number of Major League ballparks they've seen. On this Ning Network, a true Ballpark Chaser is a person with the life goal of seeing all 30 Major League Baseball Stadiums. Diehard fans like Ken Lee use cool widgets on their Profile Pages to show which ballparks they've visited: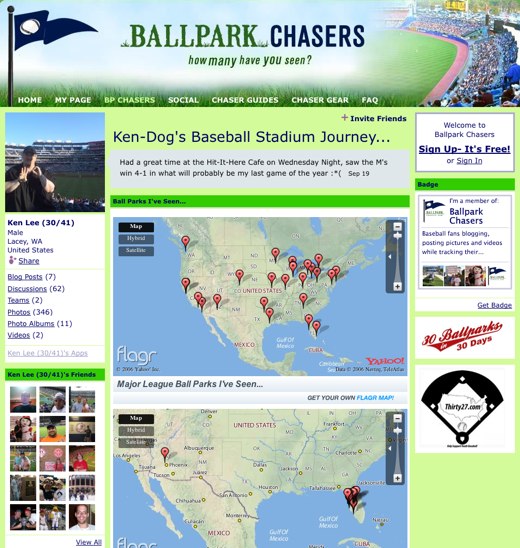 And that's just scraping the surface. Little league baseball has a home at Baseball Youth, the Ning Network Baseballplayer.com is run by former Cubs pitcher Steven Ellis, and L.E.A.D.'s Legacy League brings baseball to inner city youth. You can discover the perfect baseball Ning Network for you with a Ning Search.