Let's talk about it: Cancer Schmancer
Ning Network Spotlight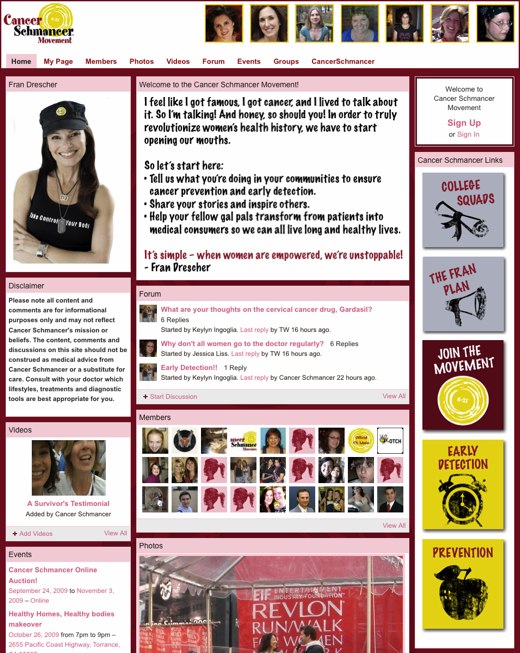 "It's simple: when women are empowered, we're unstoppable," writes Fran Drescher on the Cancer Schmancer Ning Network. Drescher is on a mission: to get women talking about cancer and early detection and empower them to be their own best health advocates.
While Drescher was diagnosed with uterine cancer, the Cancer Schmancer movement and Ning Network is about getting women to talk about the importance of early detection for any type of cancer. With October being breast cancer awareness month, now is a great time for Cancer Schmancer to get its important message out. Right now, the movement, "is shifting the focus from just searching for a cure for cancer to prevention and early detection, when cancer is most curable," explains Jessica Liss, the Cancer Schmancer Program Coordinator. "We empower women to listen to their bodies, ask the right questions of their doctors and seek second opinions in order to transform from passive patients into medical consumers."
The women [and men] of Cancer Schmancer are already discussing some of the difficult issues on the network. For example, why don't more women get regular check-ups? Issues of fear, time and the cost of medical care were all brought up in response to the original question. For the Cancer Schmancer movement, it doesn't matter if it's expensive (money or time-wise) or if it seems scary; women must start getting checked out.
"One in three women and half of men will get cancer in their lifetime. It's a scary statistic, but we can fight back," says Liss. "We may not have the cure for cancer, but we can save lives today through prevention and early detection."