Profile Page Layout Change Coming Friday
Updates
Back in August, we changed the default My Page layout to feature the Comment Wall more visibly. We did this because commenting on profile pages is the single most popular activity across Ning Networks and, in looking at initial data, we wanted to optimize and grow this popular activity by making the Comment Wall more visible.
When we made this change, we heard from more than a few of you that the ordering of the Comment Wall above the Profile Information was a bit convoluted. When the Comment Wall was at the bottom of profile pages, you told us it was actually easier to find.
We wanted to give this experiment a bit of time to gestate and also see if it was something with which Network Creators and members got comfortable. While there was a slight uptick in the volume of comments left for people after this change, it was not enough to continue to support something that many of you didn't like.
So, on Friday of this week – a good 48 hours from now – we'll be changing the default profile page layout back to the way it was before. See a screenshot here (click the image for a full-sized view):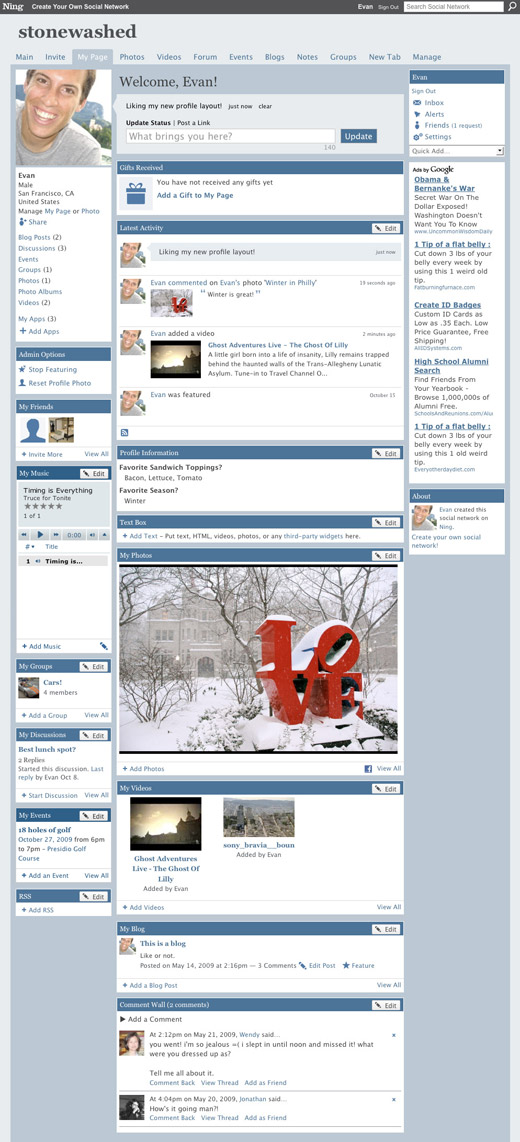 This default layout will impact new profile pages and members who have never customized the layout of their My Page. As always, members can customize their layout simply by dragging and dropping their features to the ideal location.
While we appreciate the desire for Network Creators – and not just Ning and members – to control the default and ongoing layout of member profile pages, this is a spot where it just doesn't make sense for us to focus. Instead this is the first of what we plan to be a flurry of feature improvements to address longstanding idiosyncrasies on your Ning Network.
We're planning the release to go live at 5:00pm PDT, and we'll continue to blog about other upcoming changes we'll be making shortly.
Thanks!