A digital exhibit to commemorate the dead
Ning Network Spotlight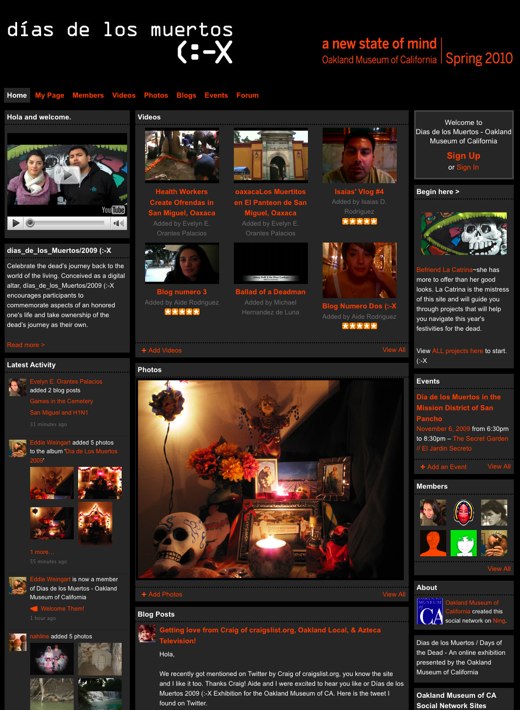 Each year, the Oakland Museum hosts a Dias De Los Muertos exhibit. Annually held on Nov. 1, Dias De Los Muertos is a Mexican holiday to remember and celebrate the dead. However, this year the museum was closed for renovations. Looking for a way to once again offer an exhibit, the Oakland Museum decided to create a Dias De Los Muertos Ning Network to continue the annual tradition.
Their efforts are already being recognized in local publications (and by Craig Newmark, of Craigslist fame). From Oakland Local:
With the museum closed for renovations and unable to host it's annual Dia de los Muertos celebration, the staff looked online and brought in guest curators who were not only artists and connected to the community, but who were also experience in the virtual world.

"They basically came up with the idea of a having it be a social network because day of the dead is about community" explained [Senior Curator Rene de] Guzman. "And with all the social networking going on we felt that we could build a huge community around it." The site was officially launched on Oct. 30 and has so far registered 130 members.
Part of Dias De Los Muertos involves creating alters to commemorate loved ones. Members are uploading photos of the altars they've created. Eddie Weingart's album for this year's celebration shows the various traditional aspects: pan de muerto, alters, candles, flowers and skulls. If you aren't sure how to get started, befriend La Catrina. Her series of blog posts explain the traditions of Dias De Los Muertos, everything from gathering photos, to preparing your loved one's favorite meal.