Add HTML to your broadcast messages!
Updates
We're thrilled to announce that starting Monday, broadcast messages will support HTML and feature a WYSIWYG editor, which makes formatting your text a breeze. This means that as a Network Creator, you can make use of the images, hyperlinks, and the rich text you need to send out a compelling broadcast to your member base.
A few weeks ago, you may have noticed that we snuck in a few updates that laid the groundwork for HTML support. Specifically, we increased the character limit to 10,000 and we gave the broadcast email link its own full page. But with Monday's release, you'll now see a WYSIWYG editor that allows you to add rich text and see what it will look like within the page (click on the image for a full-size view):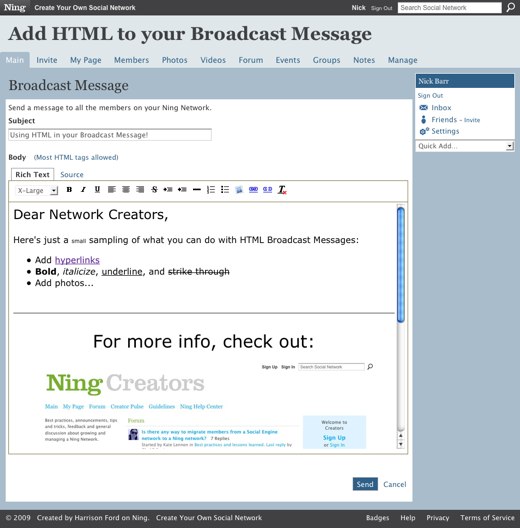 To really spice things up, you can click on the "Source" tab and add inline CSS. Check out resources like this one for some CSS tips. And for a full list of supported HTML tags, check out our Help Center article here. If you have any questions, let us know in Ning Creators!