Design Democracy, for the creative community
Ning Network Spotlight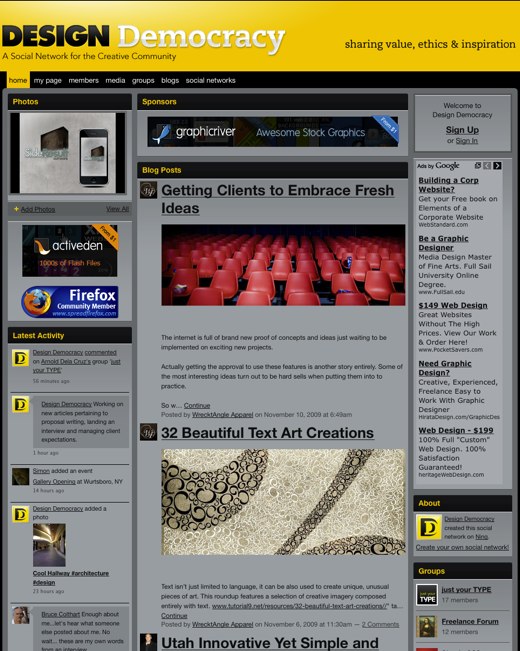 The creative community has a new online place to share values, ethics and inspiration: Design Democracy, a Ning Network for designers of all types.
Design Democracy isn't limited to one type of designer or focusing on one type of work. Content ranges from photos to text and the members piping up on what they like and what inspires them. Members are also posting about the challenges they face in creating compelling, beautiful, and commercial work. Member Bruce Colthart wrote a lengthy blog post describing challenges in creating a logo and design for a company that can also work as a tiny avatar online. He writes:
Although the meeting with the committee was two days ago, I still haven't put a pen or pencil to paper yet. I've been rather left-brained and cerebral in my musings so far, as I ponder the project either at my desk or during brisk walks through the nearby wooded county park. I've drifted a little towards visual ideas, but not that much [yet].

What is new is that each time I eased my discipline and allowed myself to wander into visual thinking, the practical limits of a tiny online avatar popped into my head and throttled my ideas. Now I can't stop thinking about this issue! I've never had to start off with this particular "constraint," though I'm not sure I like that term in this case.
Once he posted his thoughts, members replied with comments, detailing their own experiences designing with constraints, including the tension between print and online, and static and interactive.