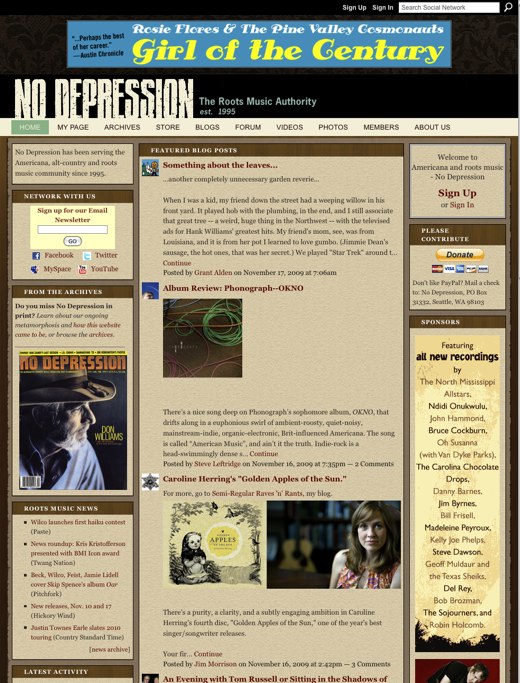 No Depression was founded in 1995 as quarterly print magazine covering alternative- country music. The past few years haven't been particularly kind to print media, and two years ago, the magazine ceased publishing. Today, the magazine lives on as a website and Ning Network, and "while No Depression no longer has a traditional staff of writers and editors, the members of this site keep it vibrant, informative, and interesting."
The lack of a traditional editorial staff doesn't mean that editorial content is lacking on No Depression. Member blogs range from album reviews ("like Wilco, Phonograph incorporates the above-mentioned binary oppositions into a blend of soulful roots songs and avant-garde blippy dissonance, the product of a thick soup of influences that have helped create an album with a broad landscape of rock-and-roll idioms") to posts that serve to simply engage members and get them interacting with each other.
Last week, Andy posted a blog about the music he'd like played at his eventual funeral. Other members quickly commented with their own chosen songs. While somewhat morbid, members choices reflect their favorite songs, ranging from "I Saw the Light" by Hank Williams to Gillian Welch's version of "I'll Fly Away."
No related posts.