How do you pick college football's national champ?
Ning Network Spotlight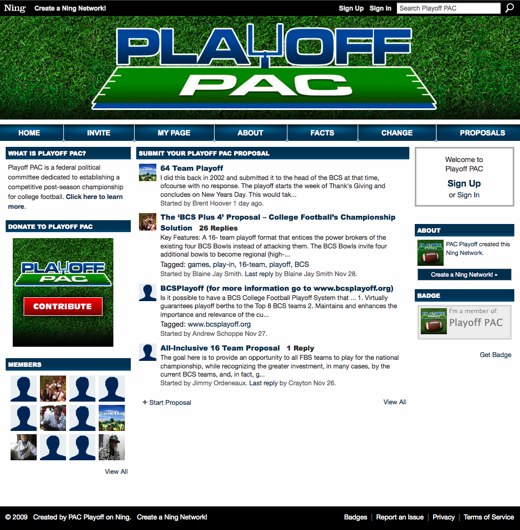 Florida versus Florida St. Michigan against Ohio St. Bears against Cardinal. These are some of the greatest rivalries in college football. And while it's easy to see who's won the individual games, fans must rely on the mysteries of the BCS rankings to find out which team has been named the national champion.
For example, last year Boise State, Florida, Oklahoma, Penn State, Texas, USC, Texas Tech, Alabama, and Utah all had either one or no losses after the 2008 regular season. Florida and Oklahoma were — in some people's opinions — arbitrarily selected to play in the 2009 BCS title game.
Playoff PAC is a federal political committee dedicated to establishing a competitive post-season championship for college football. Members can propose a national championship plan, or debate the intricacies of proposals that have already been put forth. The Wetzel Plan may be one of the most famous proposals —  a 16 team field, with 11 automatic and five at large bids — but that's only the beginning. Some members would rather see a 12 team playoff. Others want to go even simpler, down to eight teams.
The ideas put forth aren't throw-away proposals. For example, Blaine Jay Smith's proposal for the BCS Plus 4 is almost 1,000 words long and includes multiple Excel spreadsheet attachments. The basics of his plan:
A 16- team playoff format that entices the power brokers of the existing four BCS Bowls instead of attacking them. The BCS Bowls invite four additional bowls to become regional (high-value consolation) bowl partners to the four original BCS bowls.
The host cities for these 8 Bowl games then expand their Holiday Bowl Week formats to include play-in games on Christmas week-end. The winners going on to the original BCS Bowl Games on New Year's week-end and the losers go on and get a 2nd chance for glory by being welcomed to the wonderful Bowl Week activies at the alternate bowl game sites and playing in these high-value consolation bowl games, also on New Year's week-end (where they are guaranteed to meet another top 16 team).
While there's no guarantee that the existing BCS system will ever be revamped, that's not stopping members and supporters from thinking creatively and strategically about what the future of the BCS and college football could look like.