Improved email notifications are on the way!
Updates
November 8th Update: Along with the new features detailed below, in this release we're also upping the character limits on your broadcast messages to 10,000 characters and private messages to 4,000 characters.
November 9th Update: We've also snuck in another improvement to the content you can follow on a Ning Network. When you view someone's blog posts, videos, photos, or discussions, you'll see a follow link which gives you a way to receive an email whenever that member adds another blog post, video photo or discussion.
************
On Tuesday, November 10th (in just over a week), we'll be launching some improvements to the way email notifications work on your Ning Network. These changes are designed to make email notifications work consistently across features and get your members to the freshest and most active members and activity across your Ning Network conveniently when they might be off doing other things. Included in this release will be:
The option for you and your members to receive an email when a new member joins your Ning Network
More options to follow a particular video, photo, discussion or comment thread
A simplified Email Settings page
Updated Group membership and activity notifications
The option for you or your members to receive emails when a new member joins
We're making it easier to welcome members by offering an email notification to you and your members when new members join your Ning Network. For Network Creators, we'll have this option turned on by default, but there's a link right in the email to disable this kind of notification. You can also turn off this notification by unchecking the box for "Anyone joins this social network" on your Email Settings page: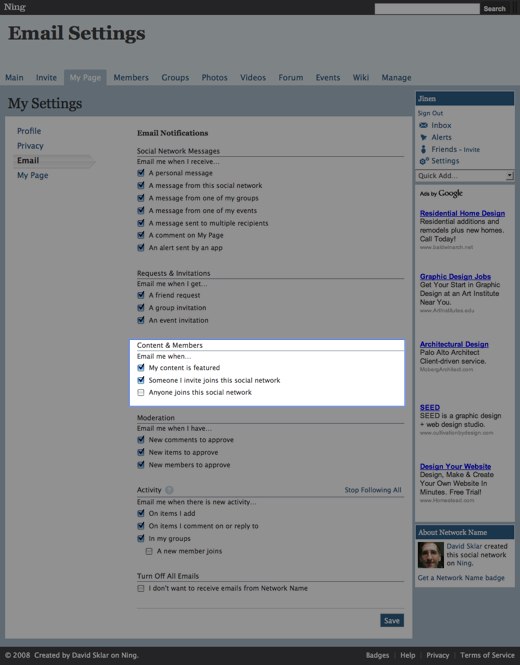 Members of your Ning Network will also be able to check this box to be notified of new members, but it will be OFF by default.
More follow options
With this release, we're adding the "Follow" link to more places, making it easier to keep tabs on activity.
Most notably, you'll now see Follow links for forum categories, photos, videos and pages. Additionally, when you comment on any item — like an epic zombie wedding cake — you'll automatically receive notifications when other people comment on it. This will drive activity back to the conversations in which you've already been participating.
One thing to note is that if you added a photo or a video before the release, you won't receive notifications about it if you weren't receiving notifications already.
Simplifying the Email Settings page
With all these updates to email notifications coming up, this was the perfect time to simplify the Email Settings page. As always, you can reach this page by clicking the "Settings" link and then selecting the "Email" tab on the left.
Updated Group membership and activity notifications
With this release, members of a group will now by default receive an email notification when someone joins a group in which they are also a member. This won't be defaulted on for current group members, but members who join new groups will start receiving these notifications. Members can change this by checking or unchecking the box that says "A new member joins" under "In my groups." Here's how that looks: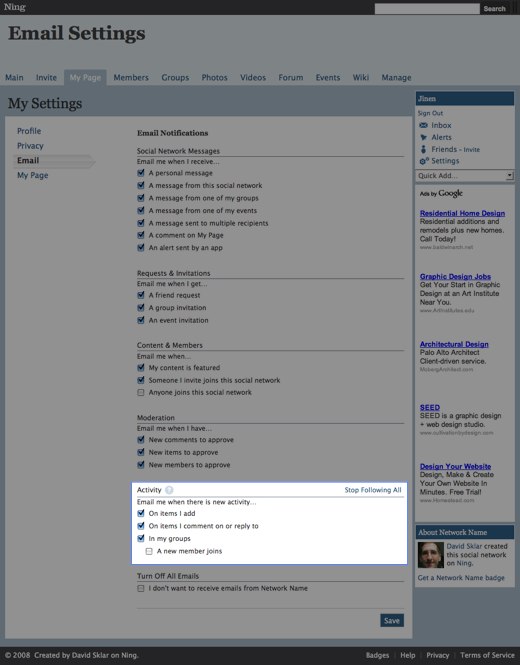 Even better, if this isn't a setting that you want to have on for you members by default, as the Network Creator, you can change the default settings for group notifications. To make this change, just go to the Feature Controls page under the Manage tab and check or uncheck "By default, notify members when someone joins their group." This gives you and the members of your Ning Network flexibility when it comes to keeping tabs on the groups you create and join.
While these might be the most noticeable change to email notifications, there are some other minor improvements in this release as well:
If you feature a member or the member's content, this member will get an email notification letting them know about it.
You'll also notice that each type of email notification now has a unique URL parameter. This is great if you want to track activity back to your Ning Network with a service like Google Analytics.
And that's it! If you have any questions about the updates in this release, please let us know.