More Virtual Gifts improvements coming your way
Updates
Update: This release is live as of Tuesday, November 24.
In the coming days, we'll be strengthening the Ning Virtual Gifts feature with a series of improvements that give you as a Network Creator even more control over how you customize the Gift Store around the context of your Ning Network. This update follows on the heels of our previous update to Ning Virtual Gifts, which you can read about here.
Network Creators can now choose from a collection of Award Gifts that only they can give to members. When you check out the Gift Store, you'll see a new category for Award Gifts that's only visible to you as a Network Creator. This is a great way to use virtual gifts to reward your stand-out members. When you upload a custom gift, you can also designate it as an Award Gift. To set a custom gift that can only be given out by you, select "Network Creator Only" on the "Upload a Custom Gift" page.
Keep in mind that these exclusive gifts won't go towards your revenue share, since only you as the Network Creator can purchase them.
You can now choose whether the Gift Store updates automatically with new and seasonal gifts. We've seen an awesome variety to how you and your members are using Ning Virtual Gifts. To reflect that, we now give you the option to either automatically have new gifts added to your Gift Store, or add new virtual gifts yourself via the "Add Ning Gifts" option. Here's what you'll see when you click the new link for "Automatic Ning Gift Management":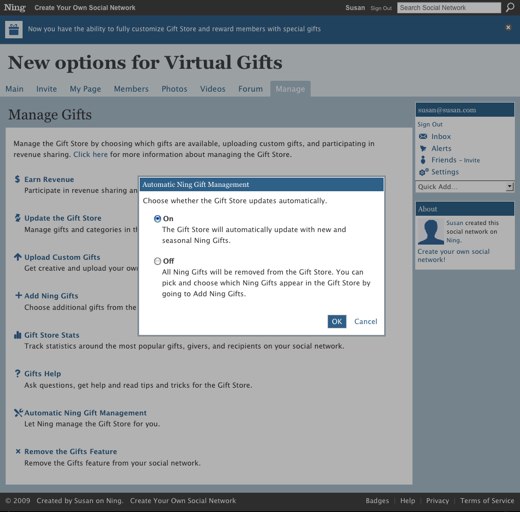 Get more credits when you buy in bulk. All-star members who are buying a large number of credits for virtual gifts will now see a bulk discount to their purchases. You'll see how many extra credits you're receiving when you purchase more Ning credits.