Refreshing the Created By box on your Ning Network
Updates
On Monday, we're refreshing the Created By box with a new look and updated language. The Created By box, which appears in the right column of your Ning Network, serves a few purposes. First of all, it lets everyone know who the Network Creator is. Second, along with links in the header and the footer, the Created By box invites people to create a Ning Network themselves. In this release, we're refreshing the design of the Created By box and updating the text. Here's how it will look: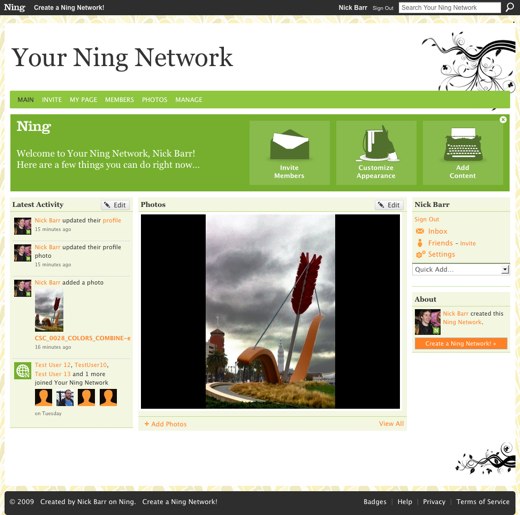 You'll notice that the Created By box language invites people to "Create a Ning Network!" rather than the "Create your own social network" text you see on Ning Networks today. The goal here is to update your Ning Network with the language we've been using on Ning.com and here in the Ning Blog for a while now. If you're looking for a way to remove prompts to create a Ning Network, check out the "Remove Promotion Links" premium service explained in detail here.
While these are probably the most noticeable changes, it's worth pointing out that we've made some smaller language changes across your Ning Network. Specifically, where your members used to see "social network" or "network," they'll likely see the name of your Ning Network instead (for example, "Join Paris Cyclists" instead of "Join this social network.") This should create a more branded experience for joiners and potential members. Any customizations you've made with the Language Editor will *not* be overwritten by this update.
If you have any questions about this update, join the conversation on Ning Creators!