A new way of reaching out for Immaculata University
Ning Network Spotlight
People Profiles
On Monday, we talked about a trend we're seeing on Ning; admissions offices creating Ning Networks for their admitted students to connect with each other before arriving on campus. Today we're posting the second of three interviews we've completed with Network Creators of three these Ning Networks. Up today is Derek Luther of Immaculata University.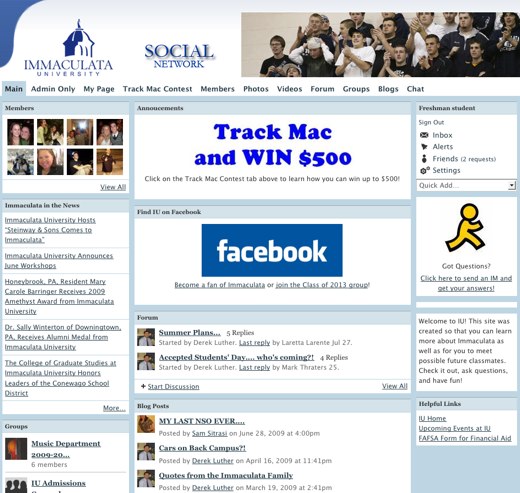 Derek Luther is the assistant director of admission of at Immaculata University in Immaculata, Pa. We spoke with him to learn why he set up a Ning Network and how his students have benefited.
Why did you set up a social network for your incoming students?
We setup the network because we know that students live and breath by social media. They are more connected than ever before. We wanted to meet them on their terms, but were scared to use Facebook. We've seen the data that says that they don't want to talk their Admissions Counselor on Facebook, but they like social networks.
How are students using the network to connect differently than past years?
This year, we're launching a photo contest. Each accepted student has been given a doll replica of our mascot, Mac. Prizes will be awarded in several categories for pictures that students take with Mac. Best location… Furthest from campus… Closest to campus… etc. We hope it will be as popular as our scholarship contest in the past.
Have you seen any particular events or interactions that have really surprised you?
We had great success with a scholarship competition our first year.
What feedback have you heard from students about the social network?
No formal feedback yet… thinking about incorporating some feedback into a survey that the students complete upon arrival in the fall.
What features are your members using?
Students are posting pictures and videos. They are also using the forum and groups to meet each other. We usually post some prompts in the forum, but leave the group to let them chat about whatever they wish!
Is the network open to parents, professors or current students? If so, how are they interacting?
We have some currently enrolled students who are members. The network isn't open to parents… but we're thinking about creating a second network just for them.
What are you or the staff getting out of the experience?
Web 2.0 is all about relationships, and this network has helped us tremendously to reach out in a different way to accepted students.
How you think this is influencing your accepted students' decisions to attend Immaculata?
We hope that this opportunity to learn more about Immaculata is paying off! Every interaction matters, and we're developing great relationships with the students through our network.