An improved grid view for Members pages
Updates
Update 12/08, 2 p.m., Pacific: This release is now live, and Network Creators are discussing it on the Creators Ning Network.
We're excited to announce some improvements in our upcoming release, slated for next week. Here's what's in it:
A new-and-improved display for Members & Friends pages
The ability to display a featured profile question on the Members & Friends pages
A Sitemap Generator for Network Creators
A new display for Members & Friends pages
Over at Ning Creators, we've had a great conversation with you all to find the best view for Members and Friends pages. Specifically, we've heard from you about the pros and cons of a grid layout and a list layout.
A grid display shows more members on the page. In contrast, the list view (which is what you see today) let you add a comment to a member's My Page or give a gift, but it displays fewer members on the page. With this release, we've tried to capture the best of both worlds with a grid view that includes action links: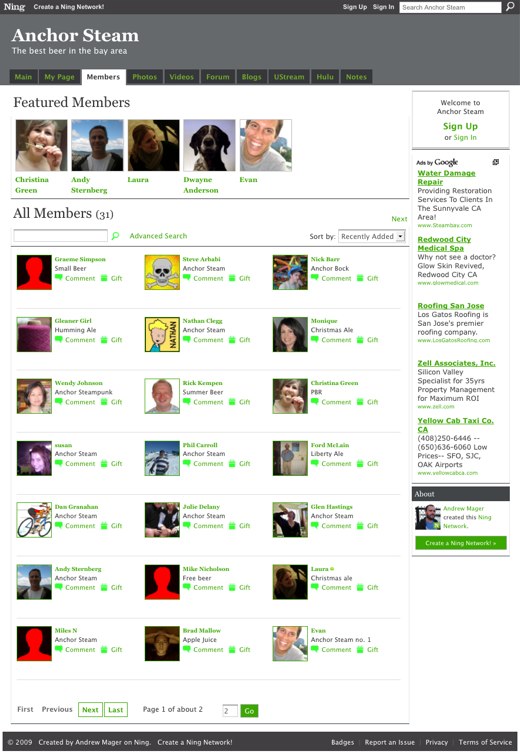 While we want Network Creators to have control over as many features as possible on their Ning Network, this is a case where we are not going to offer the option. This was a key part of the conversation over on Creators and the decision was to rollout the grid display came from these conversations.
Choose the profile information that appears on Members pages
As we looked closer at these Members and Friends pages, we also identified another opportunity for customizing your Ning Network. Today, the information that appears next to a member photo is pretty basic — you see the member's gender, and their location. In some cases that might be fine, but we wanted to give Network Creators a way to showcase that one piece of profile information that's most valuable to your Ning Network. For example, on a Ning Network for artists, that could be the medium in which they work, or on a Ning Network for firefighters, it could display their years on the job. To reflect that, you can now choose the profile question that will appear on Members and Friends pages by heading to "Profile Questions" on the Manage page and featuring a question.
A bonus feature: Sitemap Generator
With this release, we're also generating a sitemap for your Ning Network that updates automatically. If you like, you can also customize your sitemap. To edit or customize your sitemap, click the Advanced Options link from your Manage page. For more info on this feature, check out our article here in the Ning Help Center.
And to join the conversation about any of these Ning Networks, be sure to sign up for Ning Creators!