Celebrating the festival of lights
Ning Network Spotlight
Tonight is the first night of Hanukkah, the Jewish holiday that celebrates the miracle of light. To celebrate the eight-night holiday, Jewish people generally play dreidel, eat fried food like latkes, give presents, and of course, light the menorah. It isn't just around the holiday table that Jewish people are coming together. From socializing to political issues, Jews have found each other on Ning Networks, as well.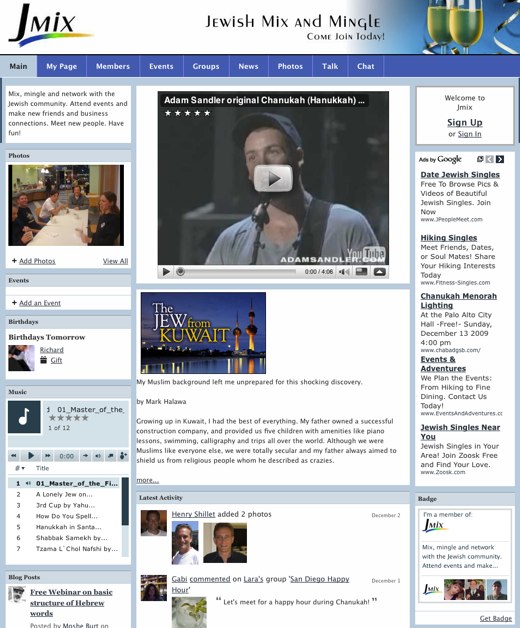 Jmix is all about mixing and mingling. And while members connect with each other on the Ning Network, they frequently take these connections in to the real world by meeting up at events. With Hanukkah starting tonight, there's plenty of opportunities to eat latkes and meet up with other chosen people. Post Hanukkah is, of course Christmas; members of Jmix are attending a swanky get-together on Christmas Eve, while the rest of the country celebrates at home. Moms on Modern Jewish Mom are also making plans for the upcoming holiday. On Schmooze 2.009 it's all about interesting Jewish news and discussion. A recent blog post covered the "Great Jewish Hope," an aspiring rabbi, who in the meantime, is focusing on his boxing career.
Not all of the Ning Networks with a focus on Judaism and Jewish people are focused on social and cultural Judaism. There are political Ning Networks as well, specifically focusing on issues in Israel. The Israel Insider is one of these Ning Networks; more than 1,600 members advocate for Israel, discuss current issues and work towards the continued existence of the country.