Digging deeper, building sustainably
Ning Network Spotlight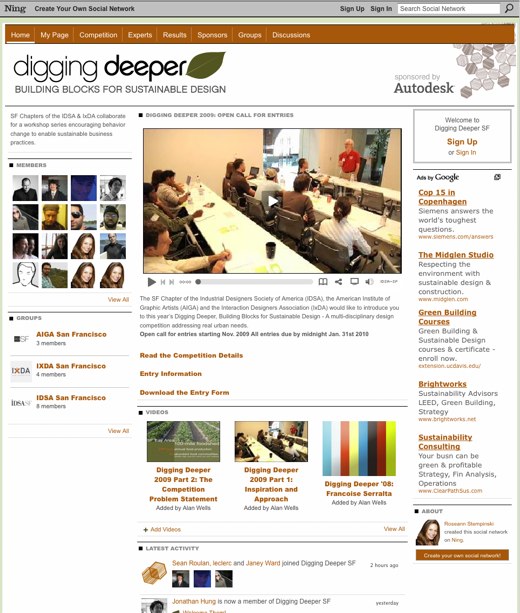 In September of this year, the SF Chapter of the Industrial Designers Society of America (IDSA), the American Institute of Graphic Artists (AIGA) and the Interaction Designers Association (IxDA) held a conference, Digging Deeper. The program offered up presentations from Gil Friend, a systems ecologist and CEO of Natural Logic, and Astrid Haryati, the Greening Director for the Office of the Mayor of San Francisco, which are both housed on the Digging Deeper Ning Network's video section. Both presentations touched on the challenges of sustainable urban design. Springing from the program is a competition, which launched at the beginning of Nov. and goes through Jan. 31, 2010.
The challenge put forth:
Design an urban agricultural product, system, retrofit, service model or communication campaign / platform that is simple to set up / manufacture / produce / and/or implement / sell / distribute and maintain within the context of the urban environment with existing neighborhood, city and state regulations. It must be scalable and should support wellness and opportunity within communities.
To learn more about the competition, read the call for entries here and the complete entry information here.