eCoronado gets grilled on Technorati
Ning Network Spotlight
Technorati has a great interview up with eCoronado Network Creator Steve Johnson about how his Ning Network has come to be such a thriving part of the small, Coronado community. With fewer than 25,000 residents living on the island near San Diego, eCoronado acts as a social network and an online newspaper for residents.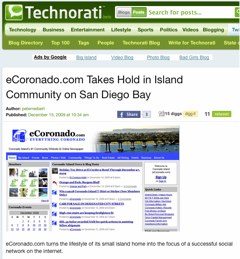 Steve has some great ideas for his Ning Network, and definitely has an engaged group of members, as he explains below. From the interview (TR stands for Technorati):
TR: You started eCoronado.com as a hobby seven years ago. Can you still run this site by yourself?
SJ: No. There are just two employees, me and my wife Lisa, and an intern (from Coronado High School) who does our video production. The real vitality of eCoronado is contributed by our member/users. They're staff members, too — they're as involved as we are.

TR: What do the member/users actually do?
SJ: Well, they post lots of pictures and comments, even articles – as many as eight to ten a day — a continuing flow which Lisa and I edit and put online. For example, when the city council proposed reinstating a toll on the Coronado Bridge, about 60 of our users posted comments, some of them very strong. The mayor, also a member/user responded directly on eCoronado.com. Likewise, every member of the city council is a member of eCoronado.

Another example – a member ate dinner at a restaurant in Coronado and didn't like it, he put his review on eCoronado.com. The restaurant owner is also a member, so he replied directly to the review on our site. This happens often. You see, we have a function like Yelp.

Last week on a rainy day I put a notice on the site for free frozen yogurt for the first hundred members to show up — and within a couple of hours they did.
Steve has done a fantastic job getting the Coronado community online and participating on eCoronado. It's yet another example of the ways people around the world are using Ning Networks to forge stronger connections with the people who live in their neighborhood, whether it's across the street or miles down the road.