freeDimensional, where art and activism meet
Ning Network Spotlight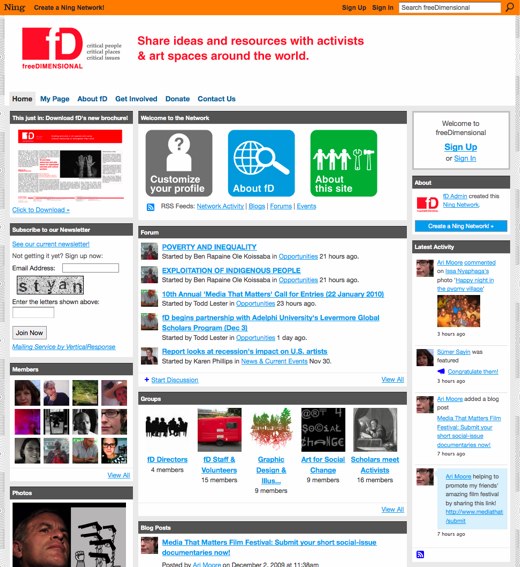 Critical people.
Critical places.
Critical issues.
These are the focuses on freeDimensional, a Ning Network dedicated to advancing social justice by hosting activists in art spaces and utilizing cultural resources to help strengthen activists' work. This nonprofit organization identifies surpluses, including housing and funding, and then redistributes them to activists. Their Ning Network serves as a hub for their online activity, and covers primary programs in five main hubs (in five countries), though members can take on their own projects wherever they are .
Still a little confused? freeDimensional has an extensive guide that covers both how to use their Ning Network, and how to get involved with the organization.
This site can be used to meet other people and organizations; cultivate new relationships or strengthen existing ones; get the word about about programs, projects and advocacy campaigns; find volunteers, media partners and exhibition spaces; locate artist residencies; share knowledge and strategize about fundraising; sell art and collect donations – and many other things we haven't even thought of yet. This site was built to meet the needs of the people and groups in the network, and it will continue to grow and evolve as we all figure out new ways to use it.
Project cover a wide range of political and social issues. There are groups about the lost boys of Sudan and ones about video volunteers based in Brasil. In the freeDimensional forum, members post updates and information about projects that have to do with artists and activism. To give a little context, member Karen Phillips recently posted a discussion that outlines two different cases where art helped shift regimes. For newcomers to the Ning Network, this is a great place to get acquainted with what's possible with freeDimensional.