How Events and RSS work on 8Asians
Ning Voices
Ning's Tips and Tricks
I work with a lot of developers in my role as a developer evangelist. If you've ever been on the Ning Developer Network, you've probably seen my profile photo once or twice in the forum.
And, like a lot of other people who work at Ning — actually, like a lot of people everywhere — I have my own set of interests and passions outside of work. A couple of years ago I started 8Asians.com, a blog that focuses on Asian American and Asian American issues; we talk about everything from activist issues to pop culture and pretty much everything in between. As the blog focuses on the Asian community, creating a Ning Network was a natural solution to allow readers of the blog to interact with each other.
One of the ways people have used my.8asians.com has been as a way to add community events; actresses have logged on to the Ning Network to post their one-woman shows, musicians have been taking advantage of the events feature to post events of future concert dates, etc. And thanks to the way Ning now handles RSS feeds for events on Ning Networks (including the addition of event date in the title), it makes sense to expose those events on my main blog, even though the blog is external.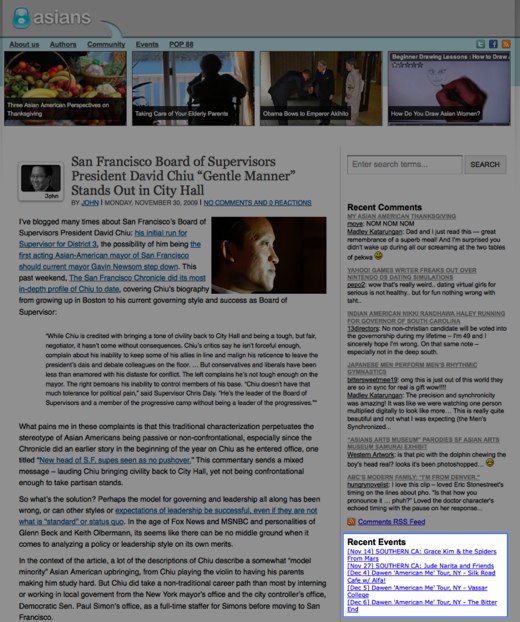 Getting the RSS for events on a Ning Network is easy, provided that it's public. I go to my Events page, and click on the RSS icon in the lower left corner; this automatically creates an RSS feed of all events that are either currently going on, or will be happening in the near future.
Now the trick is to actually take that RSS and put it somewhere on your blog. Depending on the blog software you use, your mileage will vary: if your external blog is using WordPress.com or if you have a pre-designed blog theme that supports widget implementation, it's as easy as customizing your RSS widget. The folks at RSS have created a video specifically for showing you how to add RSS to WordPress.com powered blogs.
And of course, this works for any RSS feed of a publicly accessible Ning Network. If you want to expose the RSS feed of a Ning Network's forum or show the last updated photos via RSS feed, you can do that, too. Just look for the RSS logo, either on the page itself, or pick it up from your browser.
Ernie Hsiung is Ning's Developer Evangelist. You see his photograph a lot on the front page of the Ning Developer Network, but hopefully with input from developers and Network Creators like yourself, that will change soon.