Is there life after New York?
Ning Network Spotlight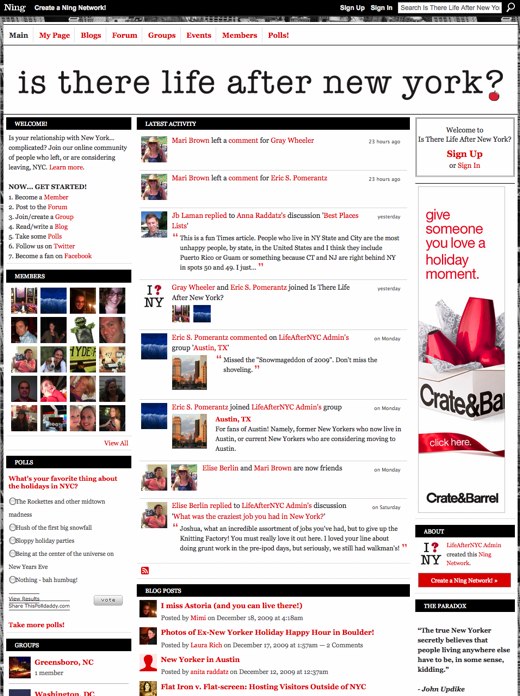 A recent study found that New Yorkers are the unhappiest residents of the U.S., coming in dead last in a study of all 50 states. So what's a New Yorker to do? For some, there's a simple answer – leave. But how do you find the strength to leave a city that inspired the quote: "The true New Yorker secretly believes that people living anywhere else have to be, in some sense, kidding"?
With help from friends and those who have been there already on Is There Life After New York, a Ning Network for New York ex-pats. LifeAfterNYC was launched after two friends moved out of the city, but then realized their bond to NYC was stronger than the previously realized.
One of the reasons people move to New York — and then ultimately may decide to leave — is the insane assortment of jobs, everything from finance to entertainment and everything in between. Those who have already left the city are looking back on their former employment with nostalgia (former gigs include ushering at the 92nd St Y, scooper at a boutique ice cream store, and personal assistant to a Bear Stearns exec.)
Like any good New Yorkers, the members of LifeAfterNYC love reminiscing with other ex-New Yorkers about their old hangouts and haunts. The Boulder branch of this Ning Network had a meet-up a week ago. They may never move back to the Big Apple, but these members are always remembering their New York roots, wherever they may ultimately end up.