Living in Cigar Box Nation
Ning Network Spotlight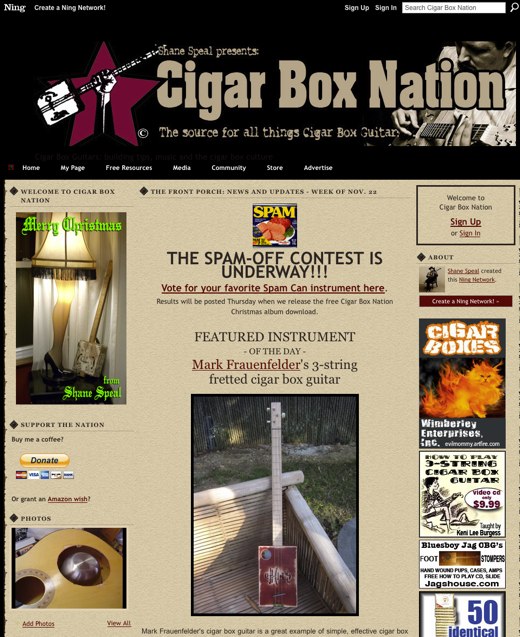 Spam has an unusually long shelf life, is the world's favorite meat in a can and serves as a delectable ingredient for sushi in Hawaii. Its cans, however, can serve their own purpose. On Cigar Box Nation, a Ning Network for people who create guitars out of cigar boxes, there's a contest underway to create the best guitar with a Spam can. Members can choose their favorite from the seven finalists, and cast their vote to help determine the winner.
Since each cigar box guitar is handmade and every one is different, there isn't a standard for what a guitar should look or sound like. The Photos section of Cigar Box Nation highlights this fact; each members' creation is unique. Some have moved beyond the traditional cigar box body, like those who dabbled in creating guitars with Spam cans. Others have branched off and used old license plates to help construct their instruments.
Not surprisingly, the most popular forum discussion is the one full of building tips, advice and discussion. On one end, members are discussing their concerns about embarking on a project with a new, and possibly fragile tin. On the other, they are trading ideas about using sanders on their guitars' necks. DIY is a huge component of making cigar box guitars, so there's plenty of discussion about various components that members can make themselves, including making homemade stain.