Online orientation at Alfred University
Ning Network Spotlight
People Profiles
Ed note: On Monday, we talked about a trend we're seeing on Ning; admissions offices creating Ning Networks for their admitted students to connect with each other before arriving on campus. Today we're posting the first of three interviews we've completed with Network Creators of three these Ning Networks. Up first is Jodi Bailey of Alfred University.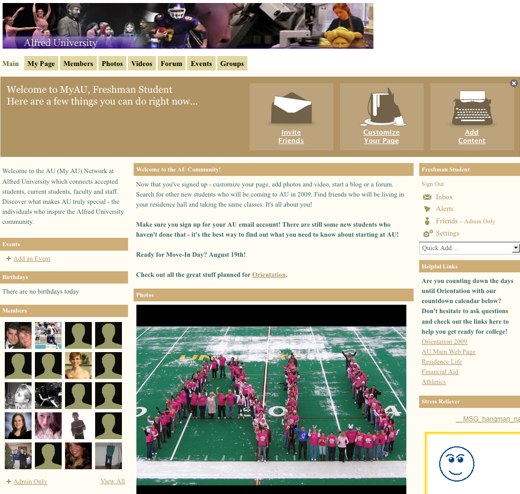 Jodi Bailey is the director of marketing at Alfred University in Alfred, N.Y. She set up a Ning Network to connect accepted students with faculty, staff and current students. We asked her about why she set up the Ning Network and what she's learned in the process.
How are students using the network to connect differently than past years?
We started our social network for our accepted students last year, so we don't have a lot of data on how they are acting differently. They are 'friending' each other as in the past – but we have seen a large increase in the questions/comments about financial aid & the cost of college in general.
Have you seen any particular events or interactions that have really surprised you?
There really hasn't been anything that has surprised me…they are really using it just as we had planned – to form connections before they arrive on campus.
What feedback have you heard from students about the social network?
The feedback we've heard is limited but very positive. They enjoy the safer environment to talk about themselves, their college search/choice, what they're bringing to school, where they'll live, etc. without the fear of predators that could be lurking on Facebook/MySpace/etc.
What features are your members using?
They are mainly posting to each others walls and adding photos.
Is the network open to parents, professors or current students? If so, how are they interacting?
It is not open to parents (we have a Google Group for Parents); no professors; and limited current students. We asked our tour guides, two marketing interns, and any student who was on last year & was willing to answer questions to stay on. There's not a ton of interaction, but as questions are posted, the current students randomly review them & respond back. It's been working nicely.
What have you learned about the class of 2013 from running My AU?
They are very worried about finances – but who isn't?! Their college selection process is definitely heavily based on the aid packages they are receiving from the various colleges they've been accepted at. So a larger majority of students is more hesitant in the process than they may have been in the past.
What are you or the staff getting out of the experience?
I am happy that we are achieving what we set out to do – provide a safe environment for students to connect with each other before they arrive on campus. While many of them do visit campus either for individual visits or for our accepted student open houses, they don't always have the opportunity to really get to know their future classmates. This is a great environment for them to do so.
How you think this is influencing your accepted students' decisions to attend Alfred?
I think this is another tool we use in our communication efforts & integrated marketing plan. We pride ourselves on the personal attention we give to our students beginning during the admissions process. Providing this communication tool allows us to interact with students in a venue they are comfortable with.  So – this is a great complement to the admissions process we have in place – and I think positively influences students who are participate. The more they are connected to campus, the more likely they are to actually matriculate.