Orientation starts early for incoming college students
Ning Voices
People Profiles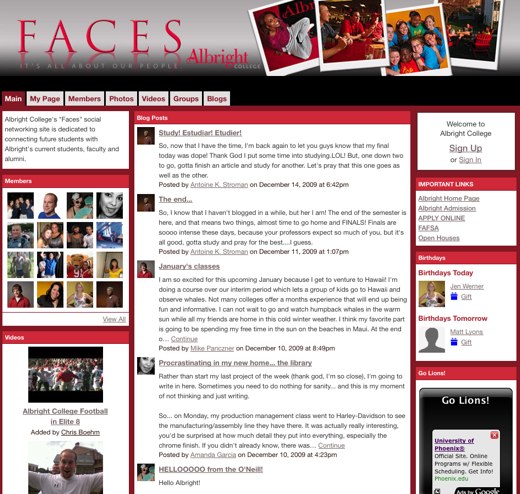 Only a half-dozen years ago, incoming college students first saw their classmates in a "facebook," a collection of headshot photos, which was mailed to incoming students. And they likely didn't talk to their fellow incoming students until new-student orientation began after they arrived on campus.
Times have changed, and Ning is fast becoming an important step in how college students meet their classmates, make friends and learn the ins and outs of their campus before they even set foot in their dorm room. In the first half of this tech decade, even as incoming students went online droves, tools for social networking were hard to come by. My own University of Pennsylvania even went to the point of engineering a social network from scratch in 2004.
Ning has made it incredibly simple for colleges and universities to set up a Ning Network for incoming students, and many schools are taking advantage. Alfred University has been using Ning for years now, and Albright College has done the same with it's "Faces" Ning Network.
Anderson University has combined its Ning Network with a "getting started" guide for its incoming class. Humboldt State has a very popular Ning Network, as does Immaculata University.
As opposed to Facebook, where it can be daunting to track down your soon-to-be classmates and daunting to start up conversations with them, setting up a Ning Networks has allowed these colleges to create safe, friendly, focused — and even private — environments where everyone is there for the same reason: To get to know their classmates and share tips on college life.
The trend has become so popular that we've even seen a few schools take it one step farther: Providence College and the armed forces both have Ning Networks where prospective — not only admitted — students can meet each other. As early applicants in the class of 2014 will start receiving their letters of acceptance this month, a new crop of Ning Networks will likely be springing up soon.
A few months ago, we spoke to three of the creators of three Ning Networks for incoming students, to hear about their experience running and setting up a Ning Network, and to get their advice for colleges that want to do the same.
Evan Goldin, a product manager, is going to convince the University of Pennsylvania to ditch their custom-built social network for a more powerful and easy-to-use Ning Network.