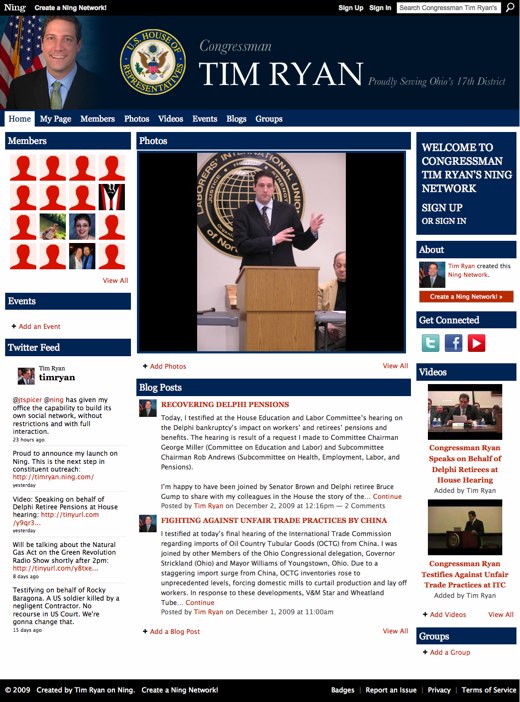 He announced officially launched it yesterday with a tweet: "Proud to announce my launch on Ning. This is the next step in constituent outreach: http://timryan.ning.com/." Rep. Tim Ryan, from Ohio's 17th district, plans on using his Ning Network as a new channel of communication between his office, and the people he represents. "We are talking about new media and transparency in government," his spokesman Erick Sanchez told The Plain Dealer. "This is the next step in the right direction."
Rep. Ryan is using the blog feature to keep his constituents in the loop about what he's been up to on Capital Hill. Yesterday, he posted information about testimony he gave on recovering pensions for former employees of Delphi (which went bankrupt). Members can read his regular blog posts to stay up to date on what their elected official is doing.
Unlike the Ning Networks of Bob McDonnell and Tom Campbell, which were created to help a campaign and get people to come out and vote, Rep. Ryan's Ning Network isn't focused on an upcoming election. It is, as he says in his announcement, a new type of constituent outreach and communication — it's about shortening the distance between an elected official, and the people who elected him.

No related posts.