A new gig, for the new year
Ning Network Spotlight
Maybe it's time to make more money. Maybe you hate your boss. Or maybe you just want to go work for yourself. Whatever the reason, the fresh start of a new year is also a great time to make a fresh start for your career. There are a host of Ning Networks for those looking for work. WaggleForce helps you create or join a career club that can support you during your search. The 405 Club, which originally started in New York, hosts social events and helps unemployed people network with each other. For those who are ready to go out on their own, there's a variety of Ning Networks that can provide advice, support and more, including the two profiled below.
Sta.rtup.biz

With more than 70,000 members, Sta.rtup.biz has reached people from every type of start-up and home-based based business. Whether you are a female entrepreneur, someone looking to use SEO marketing to their advantage, or simply a newcomer to doing business online, there is a group for you. For total newbies, there's a great intro forum post – "How to Build Your Business on Sta.rtup.biz" that walks new members through how to effectively network and reach out when signed in.
Martha Stewart's Dreamers Into Doers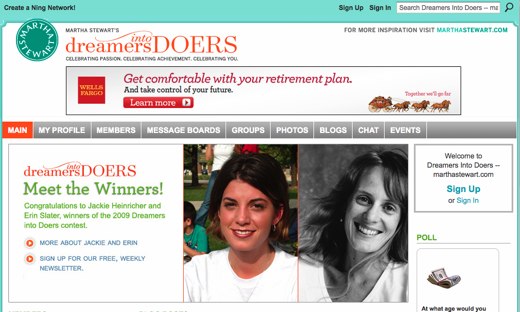 Working online is great for some people, but it's not for everyone. Martha Stewart's Dreamers into Doers is a Ning Network for entrepreneurial women, looking to take their professional endeavors to the next level, whether they be a nonprofit organization, or a home-based business. Started originally as part of an annual contest, Dreamers into Doers is now a year-round resource for its 4,000 members. Members help each other out, sharing ideas and experiences. For example, a recent forum poster was looking for help in naming a fledgling soup shop.