A new welcome email (and post to Twitter by phone)
Updates
Update: This release is now live on your Ning Network.
Two new features we're announcing today will help bring new members to your Ning Network, encourage them to stick around and make it easy to add content to both your Ning Network (and Twitter) from anywhere. Starting tomorrow, members will:
See a new welcome email when they join a Ning Network that outlines ways to get involved
Be able to post a photo or video to your Ning Network from their phone and have it automatically post to Twitter
A new welcome email
Today, the email that members receive when they join a new Ning Network is very simple; it welcomes them to your Ning Network and includes a link where they can sign in. However, we heard requests for better tips to help out new members, so we've revamped the email: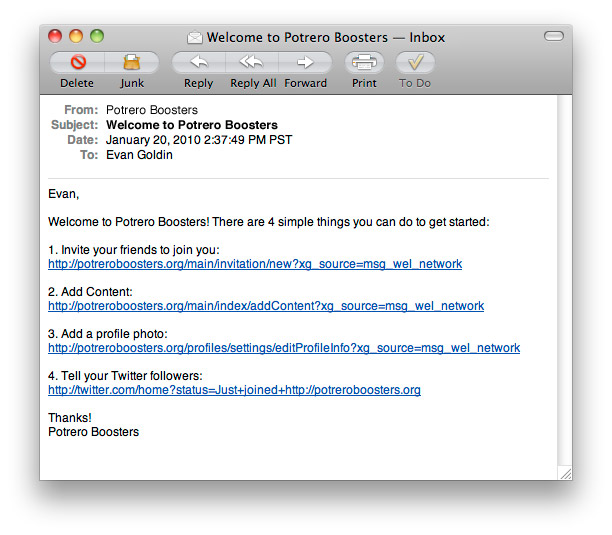 Members will be encouraged to invite friends, add content and post to Twitter about your Ning Network (if you have Twitter integration turned on). If they haven't uploaded a photo, they'll be prompted to do that, too. And if you've turned off Twitter integration off and they've already uploaded a profile photo, they'll be prompted to set up their profile page.
Many Network Creators have already customized their welcome emails, and those Ning Networks' welcome messages won't be changed by this release. If you decide you want to add some of these new features to your already-customized welcome email, or edit it in the future, just search for "welcome email" in the Language Editor.
Automatically post mobile content to Twitter
Since we've launched Ning Networks, you've been able to post photos and videos directly from your phone (or any device with the ability to send email) to your Ning Network. That feature is about to get a whole lot more useful, as we're adding the ability to automatically have that content posted to Twitter as well.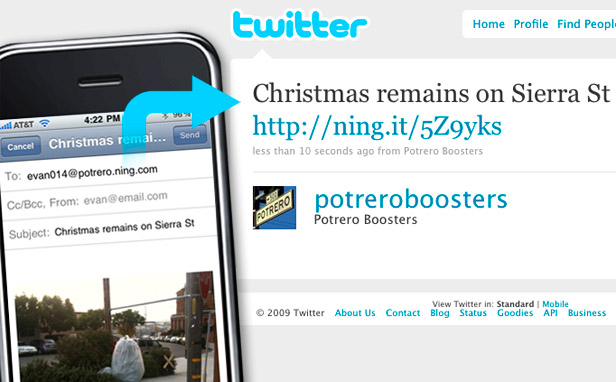 To set this up,  connect your profile on your Ning Network to Twitter. Then, head to your Settings page. There, you'll see a new checkbox that allows you to automatically send photos or videos you've added via email to Twitter:

Once the box is checked, you're all set. Just save the email address above the check box to your phone, and the next time you're away from your computer and snapping a photo (or recording a video), email it in to your Ning Network! It will be posted to your Ning Network as before, but the subject line of your email will be posted as text on Twitter, with a link to your photo.
Keep in mind that if your Ning Networks uses a custom domain, you'll need to work with your registrar in order to get the email in photos and videos feature set up.
Evan, a product manager, is looking for more Potrero Hill residents to join his neighborhood Ning Network.