Brand the tweets from your Ning Network
Updates
Update: This release is now live. Please let us know on Creators if you have any questions!
Last week, we introduced Twitter integration, giving you and your members the ability to seamlessly tweet out content without ever leaving the pages of your Ning Network. Already, we're seeing how Twitter can help a Ning Network grow and attract new members. One of the best examples of this is BJPenn.com, one of our most active Ning Networks in 2009.
In addition to running a thriving Ning Network, BJ is also active on Twitter, with more than 30,000 followers. By using the new Twitter integration tools to share content from his Ning Network with his followers, BJ has been able to further engage with his fans and directly link them to a place where they can find out even more about their favorite UFC fighter. And it's working — post Twitter integration, the number of members joining BJPenn.com on a daily basis has more than doubled. On Sunday, a day when BJ was tweeting frequently from his Ning Network, there was a 595 percent increase in new members over the previous Sunday, before Twitter integration. What this tells us is that Twitter can be instrumental in helping you find new members who share your interest or passion.
Based on the initial successes we've seen, and your feedback, we're rolling out two new features on Tuesday to help promote and brand your Ning Network on Twitter. The first is the ability to brand your tweet with the name of your Ning Network and link back to it in the timestamp, via a free custom Twitter App. And second, we're also building in the ability to easily tweet when you've added new content.
Brand your Ning Network's tweets
Today, when you tweet from your Ning Network, the timestamp in your tweet reads "from a Ning Network." On Tuesday afternoon, we're adding the ability to build a free custom Twitter App for your Ning Network. Once you do, tweets that you and your members post will be attributed to your specific Ning Network, and will link back accordingly. Here's what it looks like when I tweet directly from Sidewalk Stalker, after setting up the Twitter App: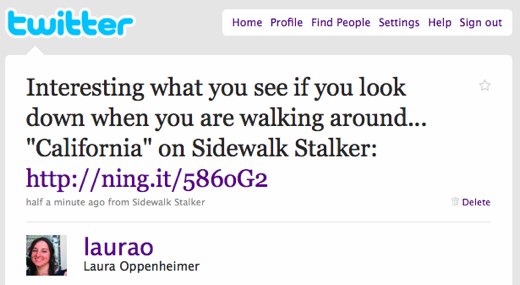 The link to set up the integration can be found on your Manage page; from there, click on Twitter and Flickr Integration link, and follow the set-up instructions listed here. For Network Creators who have previously used our Flickr integration feature, this will look pretty familiar.
When we launched Twitter integration, we defaulted it off for Ning Networks that use their own domains. Since we're now adding the ability to attribute a tweet to your Ning Network, we'll be turning this feature on for all Ning Networks on Tuesday. If you ever decide you don't want the integration on your Ning Network, you can always turn it off on the Twitter and Flickr Integration page.
Let Twitter know when you add new content
You and your members can already use Twitter to highlight content that's been posted. Next week, we're adding the ability to use Twitter to announce when you've added new content. On the pages where you add blog posts, forum discussions, groups, photos, videos and events, you'll now see a check box to share your content on Twitter. Once you add your discussion, event, blog post, etc, a tweet will also be posted that links to your new content.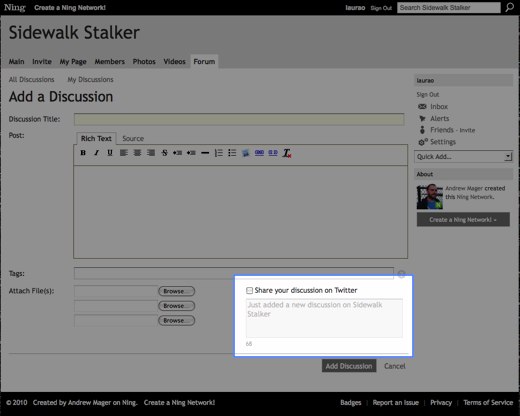 If you don't want to do this, simply don't check the box. Your Ning Network will remember your preference the next time you upload content, so the box will either stay checked, or un-checked, depending on your last action. Members won't see this box unless they've previously connected to Twitter from your Ning Network.
WYSIWYG comes to the Forum
Finally, we're adding a WYSIWYG editor to the Forum feature, which will make it easier to format your discussions. This addition will make it easier to add images, hyperlinks, and rich text to help get your Ning Network's discussions started! You can see how it looks in the screenshot above.
As always, please let us know on Creators or comment below if you have any questions.