Capturing sidewalk art from around the world
Ning Network Spotlight
Ning Voices
When I first moved to San Francisco's Mission District three years ago, I couldn't believe how much art and expression I saw on buildings, store fronts, and sidewalks — especially sidewalks. They are known for being boring and bland, but here, they have personality. Back on the east coast, the only thing type of art on a sidewalk I would see is hopscotch.
Since 2007, I've been on a mission to carry my camera with me everywhere I go, in case I see something new on the sidewalk. Flickr was a great place for me to store my images, but I couldn't share them, and build a community around them.
I got a job working at Ning in 2009, and I've always wanted to build a huge Ning Network; something that would capture the interests and passions of others while still documenting all of the sidewalk art in the world. Welcome to Sidewalk Stalker.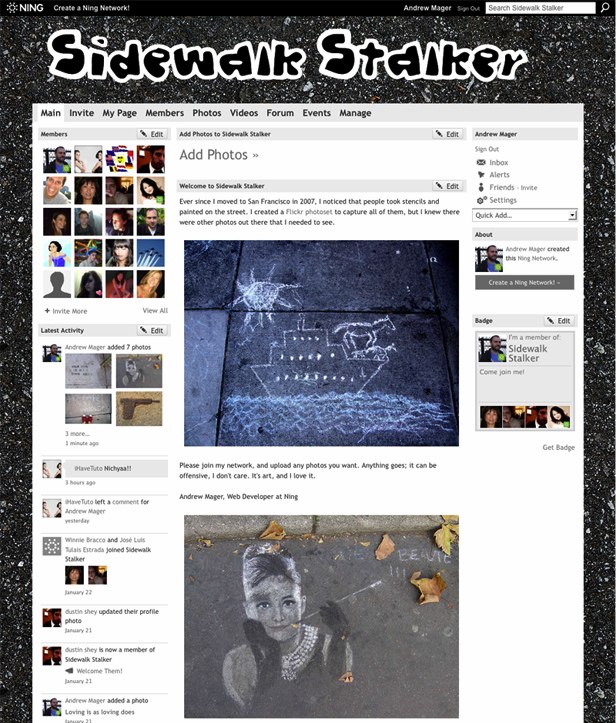 My goal is to capture every sidewalk drawing, street stencil and curb crochet around the world. So far, this network only has a handful of members, but they stretch many latitudes. Sidewalk Stalker has members in Mexico, Australia, Vietnam, British Columbia, as well as contributors from all across the United States. Someone from Chile has even uploaded a photo of a drawing in the sand. Whatever sidewalk art means to you, I want to see it on my Ning Network.
Andrew is a web developer on the product and design team at Ning, slicing Photoshop files, inspecting the DOM, and crafting CSS selectors.