Continue the conversation from the World Economic Forum
Ning Network Spotlight
Ning News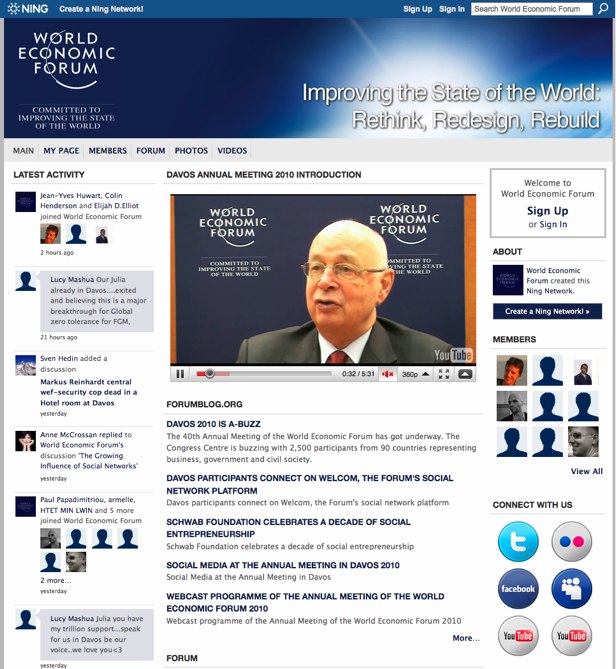 Each year, the World Economic Forum's annual meeting is held in Davos, Switzerland. While invites to the meeting of leaders in government, finance, tech and entertainment are hard to come by, today it's easier than ever to follow along from home, thanks to the World Economic Forum Ning Network. It acts not only as a hub for their other social media channels (YouTube, Twitter, etc), but also gives members an opportunity to discuss the same topics as forum attendees are discussing.
This morning, Ning CEO Gina Bianchini was part of a discussion on the growth of social networks, along with representatives of MySpace, LinkedIn, Facebook and Twitter. TechCrunch's Michael Arrington has a nice wrap-up that includes video, but most of us weren't lucky enough to be in the room when the discussion occurred. Luckily, it doesn't take being a CEO of a company or other VIP to engage with this topic — any member of the World Economic Forum Ning Network can contribute on the discussion forum.
One great reply in the forum came from the Network Creator of Business Fights Poverty:
Ning and the other platforms out there have suddenly brought the cost of connecting and collaborating down to virtually zero, and have thus enabled us to now travel as far as our imaginations can take us.
The discussions in Davos will continue through the 30th, but there's no reason why we can't be engaging and grappling with important topics year-round on the World Economic Forum Ning Network.