Final availability metrics for 2009
Maintenance
Ning News
Technology
We've already released our first big feature of 2010, but before we look too far into what's coming up, I wanted to take a minute to go over our availability metrics for all of 2009. As I mentioned in November, in July we were able to address the issues causing instability in June, and make fixing them an immediate priority.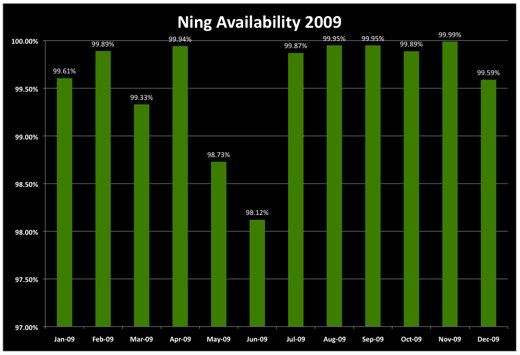 As you can see in the chart above, our availability was 99.99 percent for November, and 99.59 percent in December. The December number reflects two hours of issues that affected Ning.com pages but not Ning Networks on December 7, and almost an hour of planned maintenance on December 18. Compared with our numbers from 2008, it's clear that we've made great strides in keeping your Ning Network online, speedy and growing. As always, we'll continue to announce when there's scheduled maintenance coming up, and keep you informed of what's happening on the Ning Platform, here and on the Status Blog.
Sri Viswanath, VP of Engineering, leads the team that makes your Ning Network even faster.