Healthy and Whole Living with Martha Stewart
Ning Network Spotlight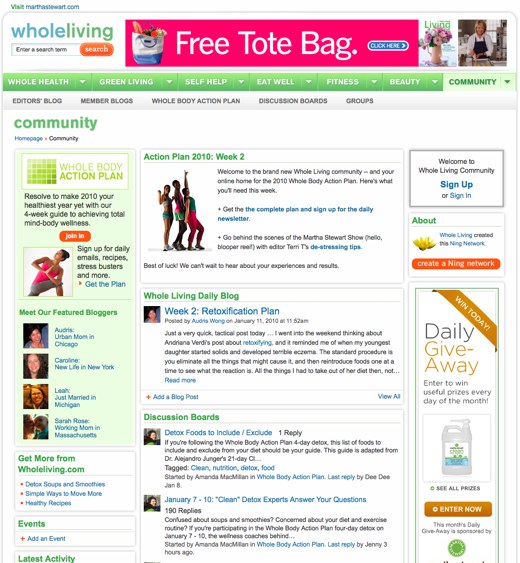 Martha Stewart's Whole Living program for a healthy lifestyle started a week ago, but there's still time to join in. The best way to get caught up? Connect with other participants on the Whole Living Community Ning Network.
The first week, which started on Jan. 4, was focused on detoxing your body by drinking lots of smoothies, soups and other gentle foods. This week, members are encouraged take a critical look at their eating habits and write down everything they eat in a journal, or on a Whole Living Community blog post. For a little inspiration, check out the Editors' blog section with posts from a variety of women including Audris, a mom from Chicago and Leah, a newlywed in Michigan.
These featured bloggers are helpful guides in navigating the Whole Living plan. For example, Leah recently blogged about challenges in incorporating new vegetables like beets and cauliflower in to her diet (she and her husband were devoted eaters of kale, sweet potatoes and other green and orange options). She included recipes for using some of these newcomers to her kitchen, so other members can try them out, too.
Let's start create health website with Ning