Integrate Twitter with your Ning Network!
Updates
Update: This release is now live!
We're excited to announce several new features that integrate the micro-blogging service Twitter with your Ning Network. Spreading the word with Twitter is an effective way to reach a wider audience and increase the membership of your Ning Network. In the coming days, you and your members will be able to:
Automatically push Status updates to Twitter
Share photos, videos, and other content on Twitter without leaving your Ning Network
Take advantage of a new URL shortener
(Note: To take advantage of these new features, make sure you have Twitter integration enabled. To reflect the preferences of different Ning Networks, this feature is off by default for Ning Networks with the Use Your Own Domain premium service. You can enable or disable Twitter integration by going to your Manage page and clicking "Twitter & Flickr.")
Automatically post your Status updates to Twitter
If you've enabled the feature, a Twitter icon will now appear in the Status box. Here's how it looks: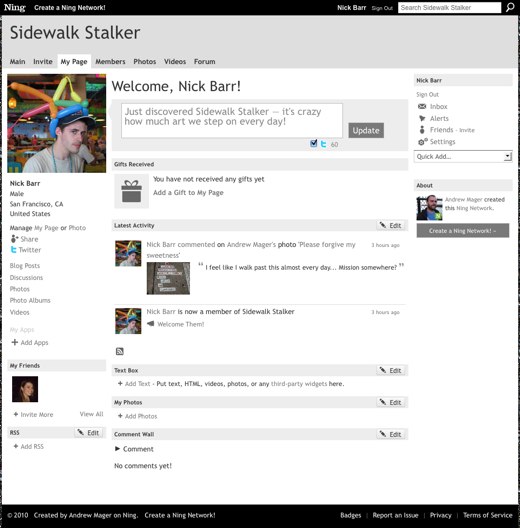 Check that box to update your Twitter account with your status. The first time you check this box, you'll be asked to authenticate with Twitter. And after that, you can always change your settings by clicking on Settings and choosing My Page.
Share your content on Twitter with short URLs
You've always been able to share any piece of content — like a photo, video, or profile page — on Twitter, but with this release we're making it a lot easier. Now you'll see a Twitter link next to your Share link. And if you have Twitter integration set up, you and your members can click the Twitter link to send a tweet without leaving your Ning Network.
In the spirit of 140 characters, we're also rolling out a brand-new URL shortener that will automatically condense hyperlinks to shared content: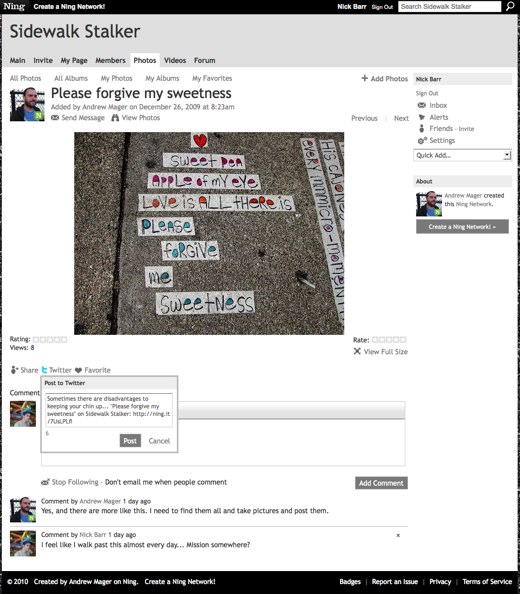 This helps trim down the length of your tweet, giving you more room to rave about some cool sidewalk art you just discovered — or anything else.
What's on deck for Twitter integration
As believers in agile development, we plan to bundle more improvements to Twitter integration in the near future. Here are two things we have in mind:
By default, members' posts on Twitter will say "from a Ning Network" in the gray text below the tweet. For our next steps, we want to offer a premium service that lets you brand your Ning Network by customizing this text and linking it back to your Main Page.
We're also looking into ways to make it easy for you to update your Twitter account any time you upload a photo or video.
As always, your feedback will help us plan out and prioritize our next steps. So stay tuned, and be sure to join the conversation on Ning Creators!