Measure clicks from email notifications
Ning's Tips and Tricks
With the launch of improved email notifications last year, URLs in your Ning Network's email notifications changed in a small but significant way. Since Nov. 10, URLs in almost all email notifications have contained unique text that identifies the type of email notification.
This means that any Network Creator using Google Analytics to measure traffic can look at how much traffic is coming from all email notifications — and even each specific type of notification. You can use this data to see what notifications are most successful at driving traffic, how many visits each broadcast message generates and much more.
Here's how.
Step 1: Sign into Google Analytics
If you haven't installed Google Analytics yet, do it today (we even have a tutorial for it). Keep in mind it can take up to a day before you can start viewing data.
Once Google is collecting data from your Ning Network, sign in to Google Analytics and click "View Report."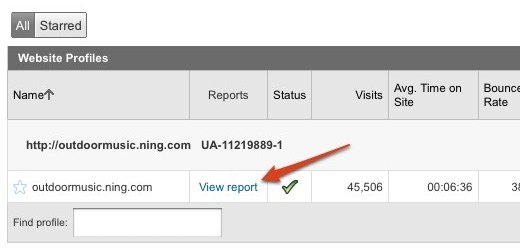 Step 2: View the full report
Once you're in, click on "Content" in the navigation options list on the left side of the page. On the next page, click "Top Content," one of the now-visible options under "Content."
Step 3: Filter hits to show clicks from email notifications
At the bottom of the page, there is a text field that allows you to filter hits. You can use this to filter traffic to display only clicks that came from an email notification. All URLs in email notifications now have a string of text that begins with "msg_" so type that into the text field and click "Go." You should now see traffic from notifications, sorted by the most-clicked URLs.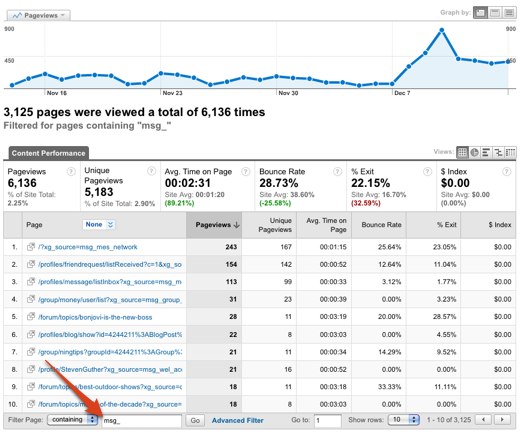 You can filter the date range by using the date drop-down at the top of the page. Even better, since every type of email notification has text specific to that notification type in all its URLs, you can even filter your traffic to only show clicks from each type of notification. To do that, just check out this list of email notification types and paste the corresponding text into the filter.