Taking a bite out of your New Year's resolution
Ning Network Spotlight
It wouldn't be a true New Years celebration until people started making resolutions about how they'll change in the upcoming year. Healthier eating. More time giving back. Working out on a regular basis. All of which are worthy endeavors, but traditionally tough to keep past January 10. However, with the support of other people, whether close friends or strangers across the globe, resolutions can be be easier to keep and possibly even a little fun. Over the next week, we'll highlight Ning Networks that can help you keep your resolutions, through January and the rest of 2010. Up today: healthy eating.
Give it to me Raw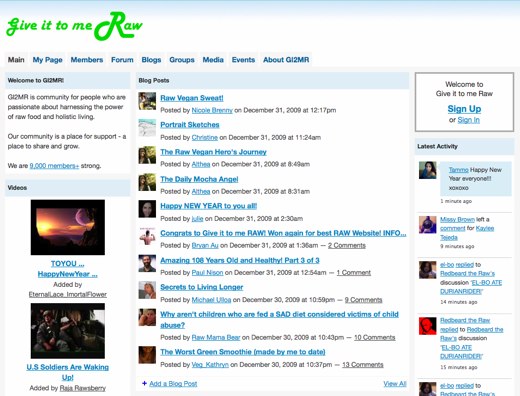 Raw food isn't for everyone, but the members of Give it to Me Raw are adherents of a no-cooking regiment. Network Creator Dhrumil told us last year that he tries to avoid extremism on his Ning Network, and instead tries to foster a welcoming environment for new members.
In our profile questions we ask a very important question that we require all members to answer, "How can the community best support you in your journey?" I've found this to be a very useful question to try to encourage members to support each other with specific topics.
This welcoming environment is working for Give it to Me Raw. In the last year, more than 4,000 members have joined, bringing their total membership up to 9,000 raw-food enthusiasts. If you are looking for support
Great Cooks Community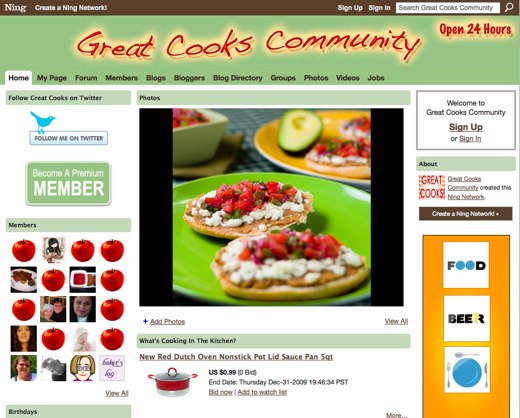 One of the best ways to make sure you eat healthy food is to cook it yourself; that way you can make sure that you know exactly what you are putting in your stomach. The Great Cooks Community is a place for people to share their best practices, trade recipes and boast about the amazing dishes they've recently created. So, say you like munching on crackers, but you know the ones in the box aren't particularly good for you, with their preservatives, etc. Thanks to the helpful cooks on this Ning Network, you can create your own!
No Time To Cook Dinner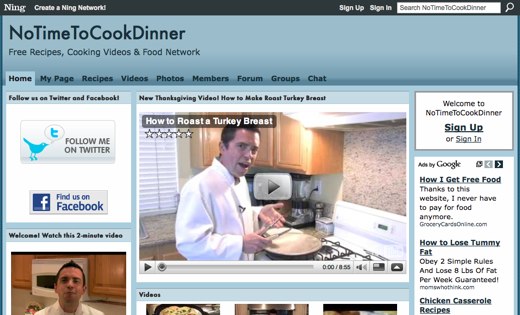 Along the same lines, No Time to Cook Dinner is a Ning Network that helps provide an answer to that familiar protest — "But I don't have time to cook dinner!." Full of easy-to-make recipes that don't take an army (or an three hours) to prepare, No Time To Cook Dinner could be the antidote to your eating out ways.