Technology, infrastructure and the future of Haiti
Ning Network Spotlight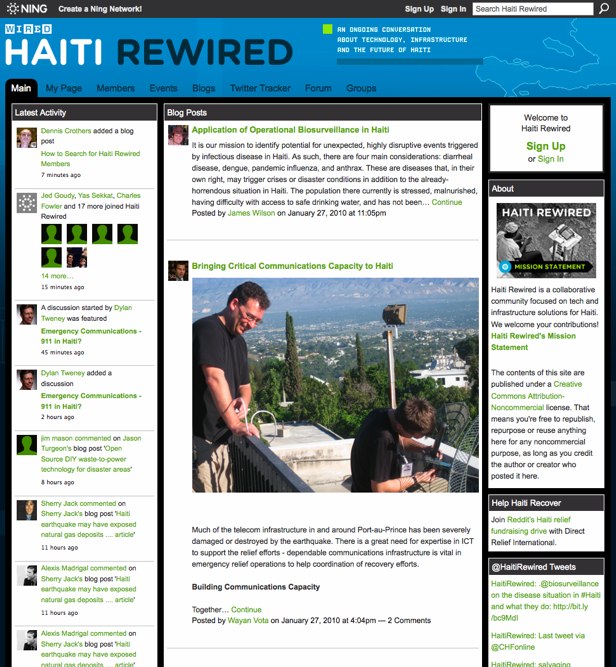 Donations continue to pour in to the Red Cross, Wylef's Yele and other organizations to help in relief efforts in Haiti. As rubble is cleared out of the way and rebuilding Port au Prince begins, there's a need to think and plan strategically. Haiti Rewired, a Ning Network created by Wired magazine, is a place to do just that. From their mission statement:
Will foreign aid to Haiti fail this time? Or will the tragedy bring with it a chance to reboot one of the world's poorest countries — and rethink the the traditional ways of delivering aid and development? Port-au-Prince may be effectively razed and rebuilt from the ground up, and many other communities will be starting over from scratch.

Paradoxically, the disaster may prove to be a unique chance for an architectural and communications reboot of an entire country.

That's why we've created this community, Haiti Rewired. We believe that better answers to the difficult questions could be created through the collaboration of technologists, researchers, geographers, infrastructure specialists, aid groups and others. Our writers and editors can aggregate information, report new stories and add to the discussion, but the focus of this effort is squarely on the thoughts, plans and actions of our contributors.
One of the largest needs is to rebuild housing that destroyed in the earthquake. But how to make housing that won't be destroyed in a future quake? Members are offering up their suggestions. For example, one member shared that floating houses are inexpensive and durable in hurricanes and quakes. Another suggested an organization, BuildChange, that's shown it can design earthquake-resistant houses. Yet another wrote about the potential uses of open-source waste-to-power technology.
The issues Haiti is facing are significant; the potential to make a difference is great. Join in the conversation at Haiti Rewired.