Wrap Up of MIDEM Keynote
Ning News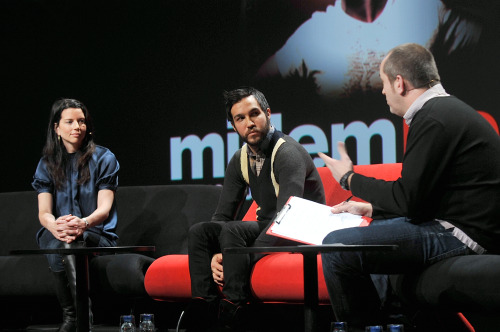 (Photo courtesy of MIDEM(Net))
Greetings from France! We had a great session on Saturday with Pete Wentz of Fallout Boy and Friends or Enemies here at MIDEM(Net). The MIDEM(Net) Blog has a good write up of the session and, if you are a Network Creator on Ning, there were a few highlights worth taking a closer look at:
Authenticity is becoming even more valuable as more people embrace social media. As we've said from the beginning, authenticity is critical to creating vibrant social experiences. However, as more people spend more time in social networks (3x more time in 2009, according to Nielsen) to connect with their friends, professional colleagues, and meet new people who share their interests and passions, they smell fakery a mile away and ignore it. There are too many other real connections that are more interesting and instantaneously available, no matter how much you like a topic or artist. Until you establish an authentic relationship with your members with your own voice and actions, you can't delegate it to others, unless they are authentic and interesting people all on their own. This applies to both artist-driven Ning Networks and those active and amazing Ning Networks organically created by someone with a great idea and fantastic execution.
If done well, unique social experiences are inherently more popular and more engaging than blogs, websites or just using Facebook or Twitter alone. When people are genuinely engaged by the type of rich, immersive social experiences that Network Creators have created on Ning, by definition it creates more page views, time spent and ultimately engagement than if you don't have the hub of a dedicated social experience at the core of your effort. This is only going to get more pronounced from here as people seek to differentiate themselves and their brands with cohesive and compelling social strategies that enable fans and members to dive deeper.
The relationship between Creator and member is evolving rapidly into something deeper and more collaborative. We have seen through both data and examples that a Ning Network needs a strong and active Network Creator and founding team to build momentum and membership initially. However, especially for artists and any Ning Network that has passionate members, it's the collaboration between Creator and member that separates an active Ning Network from those that never quite get off the ground. This is something that you as Network Creators have known since the beginning. That's why you started Ning Networks in the first place. The rest of the world is now catching up to the fact that fans and members are becoming patrons, collaborators and curators to artists and Network Creators in entirely new ways because of the unique, immersive social experiences now possible online.
I agree with Music Ally that Pete had the best quote of the talk:
"It's a good time to be in music, and a horrible time to be in music. A lot of things can go wrong, but it's like the Wild West – as long as you've got a pistol and you're ready to shoot somebody, you're going to be okay."
While I think of Ning as an instrument of creation rather than destruction, the analogy feels more rock and roll than anything I'd come up with on my own, so I'm going with it.
I love representing Ning when it means I can share your stories of innovation and awesomeness with the rest of the world. Let me know what you think I'm missing from this list of highlights. You're living it everyday as much as we are.