A Night Out with Denver Six Shooter
Ning Network Spotlight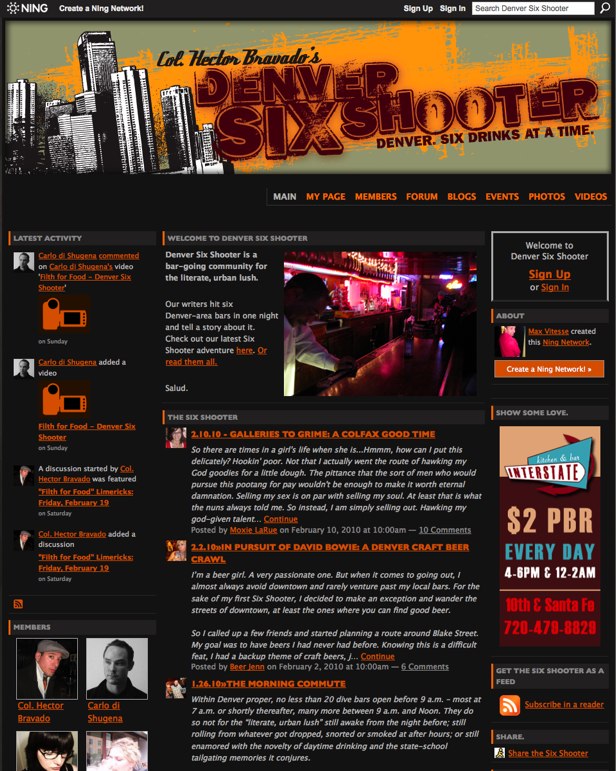 Six bars. One night. Countless stories to tell and retell.
It's all part of Denver Six Shooter, a Ning Network with a simple premise. Members journey to six Denver-area bars in a single night, and then post their adventures (and mis-adventures) to Denver Six Shooter.
Beer Jenn reports on their latest adventure, which occurred Feb. 2, on her blog:
I'm a beer girl. A very passionate one. But when it comes to going out, I almost always avoid downtown and rarely venture past my local bars. For the sake of my first Six Shooter, I decided to make an exception and wander the streets of downtown, at least the ones where you can find good beer. When Porphyry Kyle realized our night of drinking fell on the same night that a David Bowie cover band was at the Meadowlark, our final destination was determined.

Thus began our David Bowie Craft Beer Night.
Not all Denver Six Shooter events happen in the evening hours. In late Jan., Drew Bixby decided to do a "morning commute" — to visit six bars starting at 7 a.m. Over four hours, he visits six dive bars, the haunts of day laborers, the unemployed and the like. Not surprisingly, his six-shooter didn't have other participants. All other Denver Six Shooter adventures can be investigated in the blog section.