And the Sun Will Set For You… with Linkin Park
Ning Network Spotlight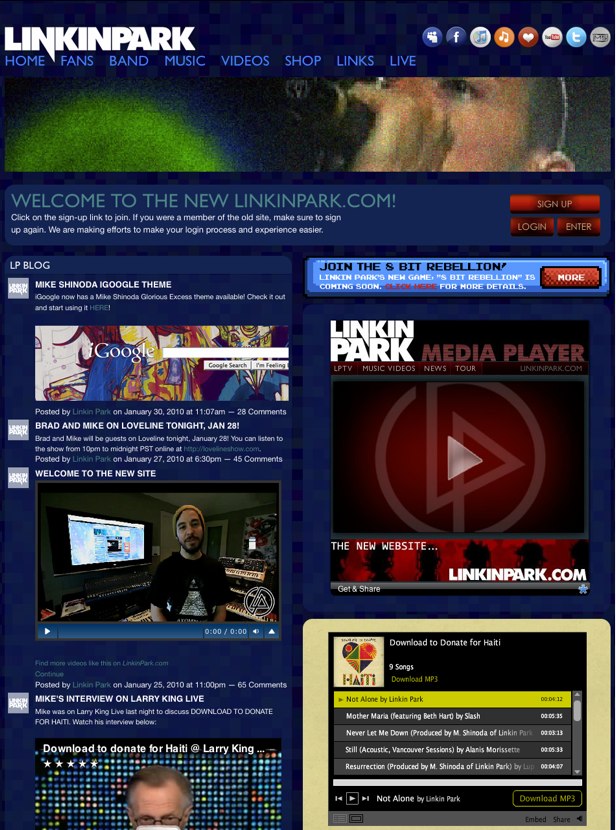 LinkinPark.com is your one stop place to satiate your thirst for information on this popular band. Fans from all around the world come together to interact with the band and other fans — just like the diverse sounds of their songs, LP fans are from all walks of life, all over the world. After signing in, it's simple to connect with other members based on favorite band member like Mike Shinoda or Chester or find other fans in your country. There's even a group for Russian fans, with most of the content posted in Russian.
If you are a member of the Music For Relief Ning Network, you might already know about Download To Donate for Haiti and the great work the band is doing. On their Ning Network you can see a behind the scenes video as the band prepares their contribution. If watching that video leaves wanting for more, check out the band's music videos or even videos uploaded by other fans. You can even sing along once you know all the lyrics.
To keep their fans up to date with every single off-the-press news, Linkin Park uses their blog which includes recent TV appearances, new iGoogle themes, and latest song and album releases. Thanks to the RSS feed, you can even add it to your Google Reader or other RSS aggregator so you never miss a post.
Meeting other fans, staying current on Linkin Park news, and finally understand what they are singing in that one song about crawling in your skin — all great reasons for spending some time on LinkinPark.com.
Christina is the Manager of Partner Support, and is a recovering vegetarian.