Celebrating and Supporting Theater
Ning Network Spotlight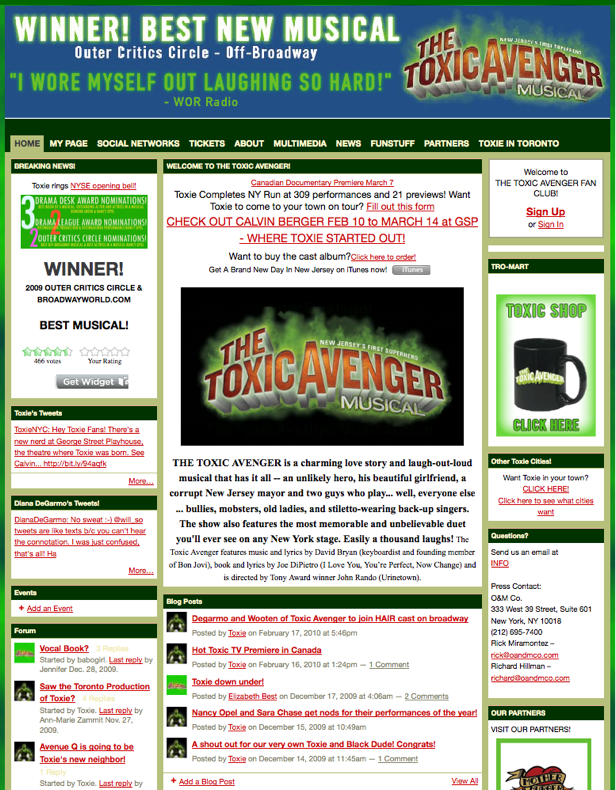 Any lingering notions that theater is only for the elite, or for times when your significant other drags you against your will to some stuffy play, are officially dead.  Whether you're into eccentric off-Broadway musicals, supporting your local theater company or grand Broadway productions, there's a Ning Network for you.
Meet Melvin, the sweet nerd-turned-pollution-fighting mutant, who along with his beautiful librarian girlfriend, a corrupt New Jersey mayor and a host of other characters, will take you through the rockin' romp that is "The Toxic Avenger." Toxie Fans provides a fantastic interactive space for fans, cast members and the rest of Team Toxie to share reviews, find merch and tickets and campaign to bring the show to a theater near you.
Team Toxie is making great use of Videos on their Ning Network, where members can find a hilarious collection of episodes featuring Mayor "Babs" Belgoody (played by Nancy Opel) joining the New Jersey Gubernatorial race, and photos from Team Toxie's trip to the New York COMICON earlier this month are on full display.
The more than 2,000 members of Toxie Fans have the opportunity to greet former American Idol finalist and recent cast member, Diana DeGarmo, who gives a great glimpse into her experience with "The Toxie Avenger" on her Blog.
If bright lights, big city is more your theater style, Ning is a great place to discuss your favorite show in a Group, or get up close and personal with Broadway stars. Ning Networks are also helping members to decide which shows and theater companies in their area are worth checking out, and what their next school or community play could be.
Liz is an Associate Community Advocate at Ning and hoping to catch the production of "Young Frankenstein" this summer in San Francisco.