Protect & empower girls with The Council of Daughters
Ning Network Spotlight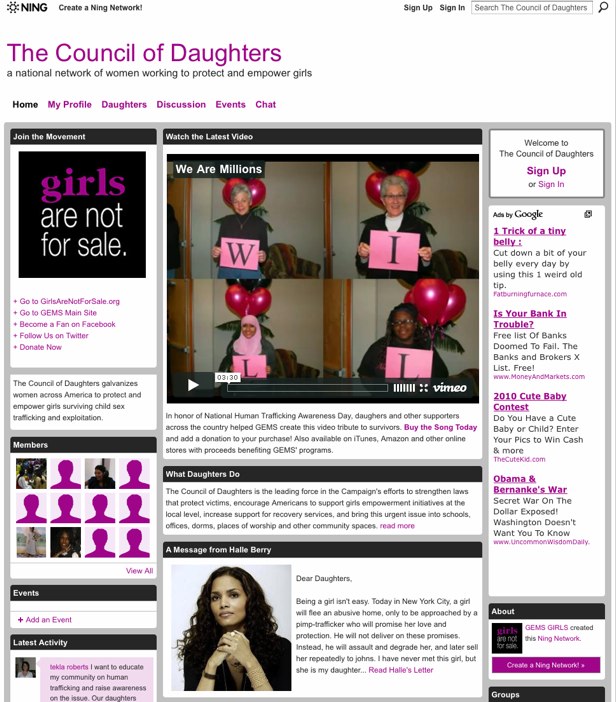 Actress Demi Moore is fired up about protecting girls from child sex trafficking and exploitation. The organization she's working with is called Girls Education & Mentoring Services (GEMS); it's organization "is committed to ending commercial sexual exploitation and domestic trafficking of children by changing individual lives, transforming public perception, and revolutionizing the systems and policies that impact sexually exploited youth."
The place for supporters — people like Demi Moore, Halle Berry, moms, daughters, cousins and sisters — to connect with others around GEMS' mission is their Ning Network, Council of Daughters. When daughters join, they make a pledge to help out in whatever way they can. One of the ways to help is to host a film screening with friends; another is to make a donation. To learn more about the GEMS and The Council of Daughters, make sure to read Halle Berry's letter to members. She writes:
Imagine what we can accomplish if millions of women band together to fight for the needs of girls at the national and local level. Imagine the power we can wield if we all agree that every girl in America deserves the right to grow up and live her dreams. Imagine the enormous change that is possible if we each commit to a simple pledge: Every girl is my daughter and I will do whatever I can, whenever I can, to protect the girls I know and the girls I may never meet.
Learn more in the discussion forums about the work these women are doing to end child exploitation for today and the future.