Say It Loud, Say It Proud: We Love Birds
Ning Network Spotlight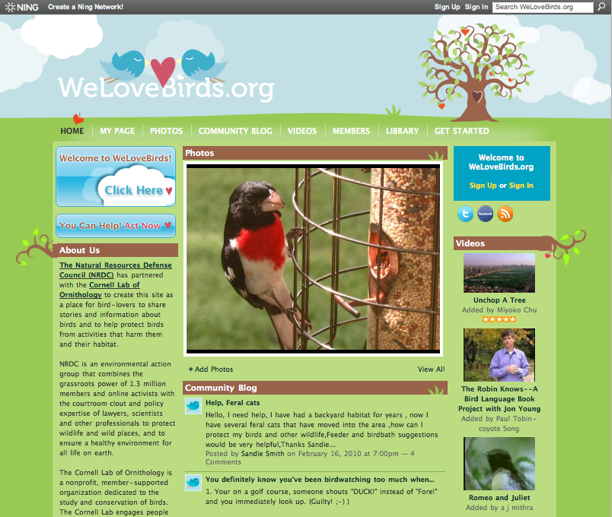 There are a gaggle of Ning Networks devoted to animal conservation. There's lions and tigers and bears — and just about every other natural wonder you can imagine. It's nice to see so many Ning Networks coming together to celebrate and support animal-related causes.
One of the newest is WeLoveBirds, a site for bird lovers of every stripe to come together and share their passion for our ornithological friends. Members are encouraged to not only celebrate birds, but also to advocate for ways to protect our fine feathered friends and their habitats.
This Ning Network has some strikingly cute illustrations, but they do a few other things very well that other Network Creators might want to try out:
They have a very visible "Welcome" message on their main page, which leads to a graphically rich explanation of how to get involved by blogging and adding pictures and videos.
They have a simple prompt for how "You Can Help" that leads members to a page where they can easily send a message to lawmakers to voice shared environmental concerns. It's a lightweight way for anyone to get involved.
"Bird Sightings:" They put photos front and center on this Ning Network. Not only are they pretty to look at, they're the lifeblood of a site like this: capturing compelling moments of birds' lives in beautiful photos.
Brought to life by the Natural Resources Defense Council (NRDC) and the Cornell Lab of Ornithology, WeLoveBirds is already thriving in only its second week. Take a gander and see what you think.
Eric, a Senior Community Manager at Ning, is shopping around for a pair of binoculars.