The Many Ways to Celebrate Valentine's Day
Ning Network Spotlight
Chocolate wrapped in colorful foil is out on the shelves. Florists are stocking up. And those of us without a special someone in our lives are beginning to grumble. That's right — Valentine's day is fast approaching, and with it comes the chance for excessive chocolate consumption, an opportunity to celebrate the love you do have in your live, or a chance to stay in and snuggle up with your special someone.
I Heart Single Parents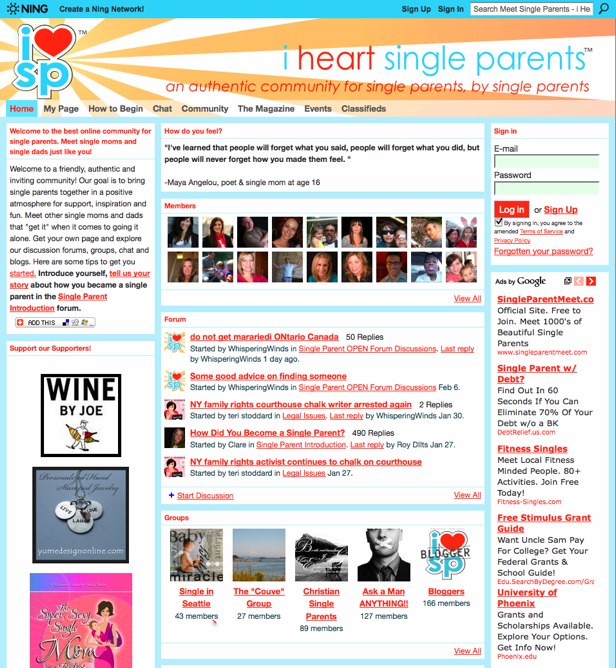 It's all in the name for I Heart Single Parents. This Ning Network's goal is "to bring single parents together in a positive atmosphere for support, inspiration and fun." Members aren't only talking about their love for their children; some of them are looking for love for themselves, too! With almost 4,000 members, who knows — that special someone could be waiting on the next profile page over.
The Chocolate Life

Love may mean never having to say you're sorry, but chocolate doesn't require an apologies and it's delicious. Those who choose to live "la vida cocoa" are members of The Chocolate Life, a Ning Network for chocolate connoisseurs. This month, there are tons of events for these chocoloholics to choose from. You could go low-key, with a chocolate and wine pairing class in New York, or go bigger, with a week-long chocolate retreat in Belize.
Other Ning Networks are offering up their suggestions for how to celebrate the annual day of love. BroadwaySpace suggests four different musicals to take your love to this Sunday. On Zabitatz, they know that money can be tight, so they're offering 10 ways to celebrate Valentine's Day on a budget.
For those that are already have a special someone, Valentine's Day doesn't need to be a big deal. You could pour a glass of wine, cook a nice dinner and turn on a movie. Or, you could just choose to eat more chocolate. And if you don't have a spouse or significant other, you can choose to celebrate the love between children and parents, brothers and sisters, BFFs (that's best friend forever), and even Network Creators and members. To help you tell the important people in your life that you love them, our friends at RedEnvelope are offering a 10 percent off discount on a Valentine's Day gift, if you use the code SAVE10. You can even use the discount to send a gift to your favorite member — or to yourself!