A Crash Course in Saving the World, through Urgent Evoke
Ning Network Spotlight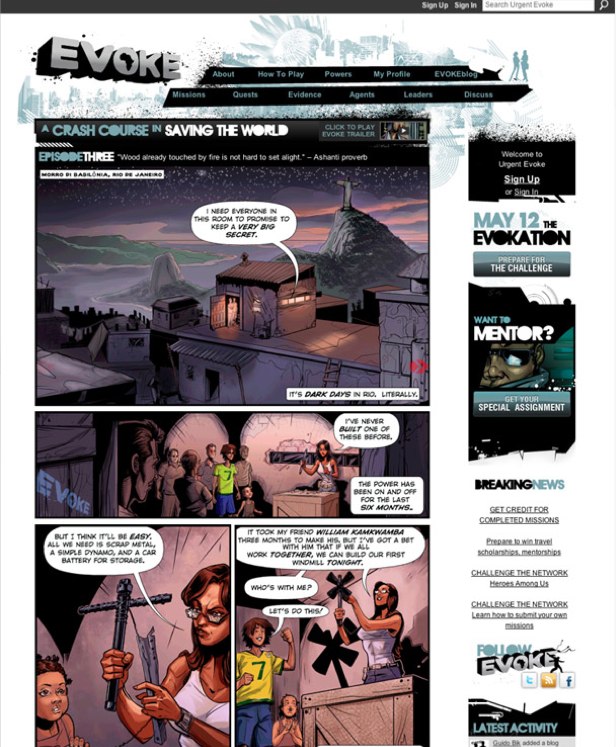 Oil scarcity. Natural disasters. Terrorism. Regional conflicts.
The issues facing the planet today are significant, challenging political leaders, nonprofits and policy makers to come up with new solutions. A new Ning Network thinks you can help, too. It's called Urgent Evoke, and it's the newest offering from game-designer Jane McGonigal.
McGonigal has previously created games on Ning — Top Secret Dance Off and CryptoZoo — but Urgent Evoke is surely her most ambitious project on Ning to date. So what is it?
EVOKE is a ten-week crash course in changing the world.

It is free to play and open to anyone, anywhere.

The goal of the social network game is to help empower young people all over the world, and especially young people in Africa, to come up with creative solutions to our most urgent social problems.
Each Wednesday night, a new Evoke is sent out. Evokes are calls for help, missions for members to take on. Each mission has three parts: Learn, Act and Imagine.
This week's mission is Power Shift — thinking about and coming up with new ways to help reduce our reliance on traditional power sources. To participate in the mission, members can learn about those who are coming up with new ways to power our lives. Then, they can act, by designing a new way to power an everyday activity. Part of the mission includes sharing their designs, through a blog post, photo or video upload. Finally, members can imagine, by telling a creative story about celebrating a special day — in the year 2020 — and what types of energy power it.
Urgent Evoke is produced by the World Bank Institute, and continues through May 12.