Action Begets Action: How the Cool Kids Get Involved
Ning Network Spotlight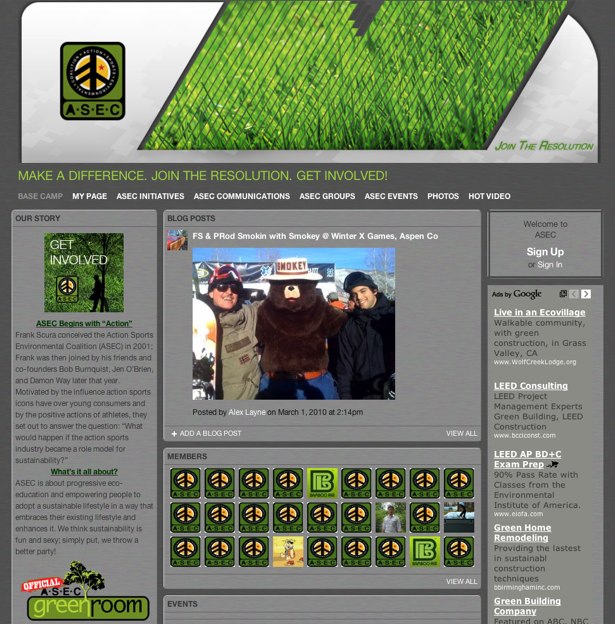 For anyone who's ever thought you were "too cool" for getting involved, you obviously don't know Frank Scura.  When he conjured up the Action Sports Environmental Coalition in 2001, the green movement was still just for hippies and squares. But when you get pro-skaters Bob Burnquist and Jen O'Brien, and DC Shoe cofounder Damon Way on your team, there's just no denying your cool factor.
Scura, also the Sustainability Advisor for the X Games, already knew that the action sports industry was popular with the coming-of-age generation, which meant they already looked up to these professionals as being the coolest of cool. The next feasible step was to use this advantageous position as a means for change; a catalyst for action. He knew that by getting professionals in the actions sports industry to sing the gospel of sustainability, he could get fans to follow suit. And sure enough, when the ASEC Ning Network was created last year, hundreds of cool kids took note.
But why are these cool kids backing the ASEC?  Because they believe in what it's all about…
ASEC is about progressive eco-education and empowering people to adopt a sustainable lifestyle in a way that embraces their existing lifestyle and enhances it. We think sustainability is fun and sexy; simply put, we throw a better party!
And who doesn't like a party?
Roll Anything Day, for example, is just one of the party-like initiatives that the ASEC has put together on their Ning Network, and the whole nation is invited!  R.A.D. (for short) is a day designated to show off your skills as an environmental advocate by rolling around town on any non-motorized form of transportation.  The party kicks off on Oct. 10, 2010 and the plan is to have the whole nation popping wheelies. Now just try to tell me that's not cool.
The fact is that pro-skaters and businessmen alike are living the life and, at the same time, are leading the resolution. But more importantly, these action sports heroes want us to know that we can do it, too. Check out ASEC today to find out how a little action can go a long way.
Carrie is an Associate Community Advocate at Ning.