For Basketball Fans, March is the Month
Ning Network Spotlight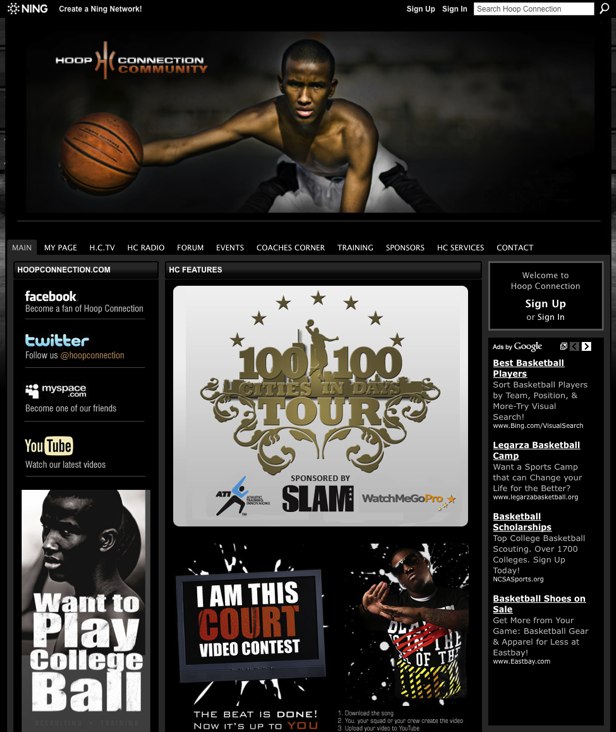 Last year, an article came out that tried to quantify how much money was lost by workers spending time playing attention to NCAA basketball instead of their work. Unfortunately for employers everywhere, there's no stopping March Madness. Trash talk, wagering and predictions are just three of the activities taking place on Ning Networks related to basketball.
The Hoop Connection is dedicated to giving players access to opportunities to play in college. High school players are encouraged to get busy both offline and online. Online, they should complete their profiles to help get their names out there. And offline, The Hoop Connection offers up a series of training plans.
Some people enjoy watching the game, more than playing it. For them, there's Ball Is Life. Essentially, members and the Network Creators create mix-tape videos — mashups of some of the hottest plays and players. If you want to check them out, head to the videos section.
For coaches, March is a time to bust out the best, most advanced plays and toughest, most in-shape squad. Basketball coaches of all types can connect with each other at Hoop Coach. Describing itself as a LinkedIn for basketball coaches, Hoop Coach is more than that — it's also a resource. For example, members can upload and share their plays they've developed, and trade advice on job searches and more in the forums.
There are some people, for whom every month feels like March. Who are these people? Those married to college coaches. When they need to vent, commiserate, or just chat with someone who has been there before, they head to Married to the Game.