From the NYT: Online Social Networks Bridge Gaps for Chronically Ill
Ning Network Spotlight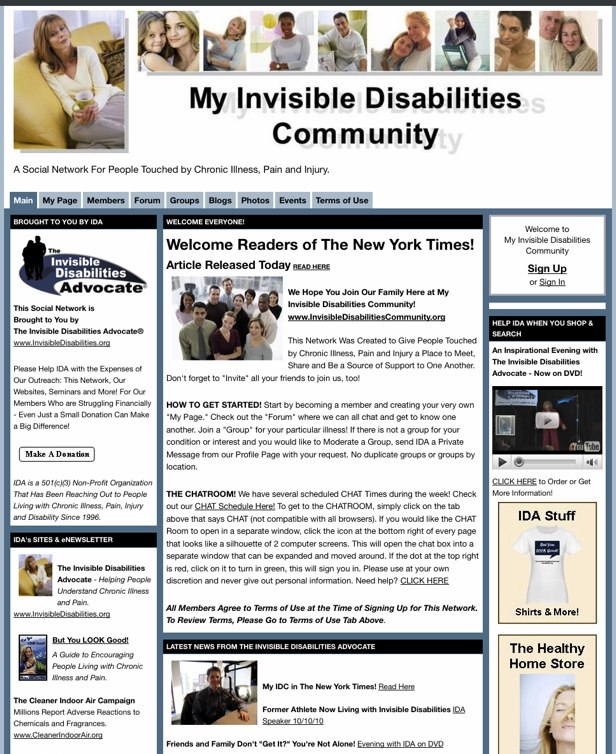 There's a great article in the New York Times today about how online social networks — including Ning Networks — can help the chronically ill find friendship, support and information.
For many people, social networks are a place for idle chatter about what they made for dinner or sharing cute pictures of their pets. But for people living with chronic diseases or disabilities, they play a more vital role.

"It's really literally saved my life, just to be able to connect with other people," said Sean Fogerty, 50, who has multiple sclerosis, is recovering from brain cancer and spends an hour and a half each night talking with other patients online.
One of the featured websites in a Ning Network, My Invisible Disabilities Community. Network Creator Sherri Connell started it with her husband, and today there are more than 2,300 members who come together to discuss everything from Lyme's Disease, to health insurance, to issues of pain.
It isn't only the My Invisible Disabilities Community Ning Network that's offering support to those with diseases and disorders. TuDiabetes offers support for those with diabetes. Austim Speaks is a resource for people on the autism spectrum. The Epilepsy Foundation supports more than 3 million people living with epilepsy. From the biggest Ning Networks, with thousands of members, to those that reach just a couple dozen, people are coming together online to support and help one another.