Ming and Ping and Ning: It's about the Fans
Ning Network Spotlight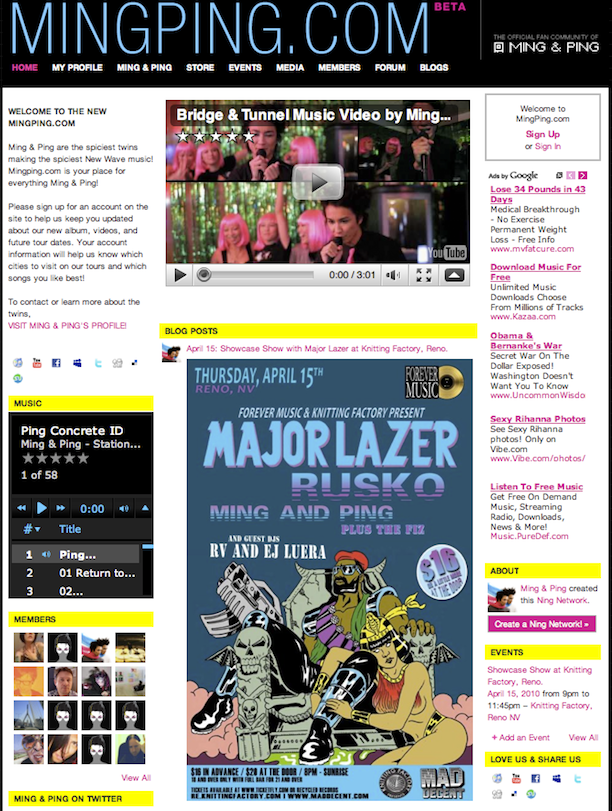 For every big-name musical act like 50 Cent or Linkin Park playing to massive crowds on Ning, there's a host of scrappy, not-yet-breakout bands using Ning to get the word out.
Whether they have ten fans or 10,000, every band that lasts for more than a few months ends up building some kind of community around the art they create. So it is with the musical duo Ming and Ping. If you're not familiar with Ming and Ping, they are two Hong-Kong-transplanted twin brothers who presumably own every Gary Numan and New Order album ever made. They're seriously into creating 80's New Wave-inspired electronic music. Or, to put it another way — the way they put it themselves — they're "the spiciest twins making the spiciest electro-pop music!"
Ning seems to work for them because they're clearly focused on not just making electronic music, but creating an atmosphere that goes beyond a fog machine and some disco lights. They're building a brand for themselves, with their Ning Network at the center of their online presence.
On their Ning Network you'll find not just music and photos and videos but also memorabilia. That's right: memorabilia. The band has integrated PayPal directly into their Ning Network to offer Ming and Ping t-shirts, posters, lyric books, pins, arm bands, Ming and Ping masks — you name it. They've even created a free iPhone Ming and Ping Pong game featuring a soundtrack of their latest music. It's all very creative, at times a bit silly, but ultimately great fun. Their online store is one that other bands would do well to emulate.
They've definitely put on their marketing hats to create a place where like-minded New Wave music aficionados would want to hang out. Along the way, their unique, word-of-mouth, in-the-know approach has even built up a bit of a mystique about Ming and Ping. People ask about it on their Ning Network Forum: What, exactly, is Ming and Ping all about? Are Ming and Ping really twin brothers? Are they actually the same person? Where can I see them play live?
Only their true fans know the full story.