VeloReviews Uses Social Media Smarts to Build Participation
Ning Network Spotlight
Ning Voices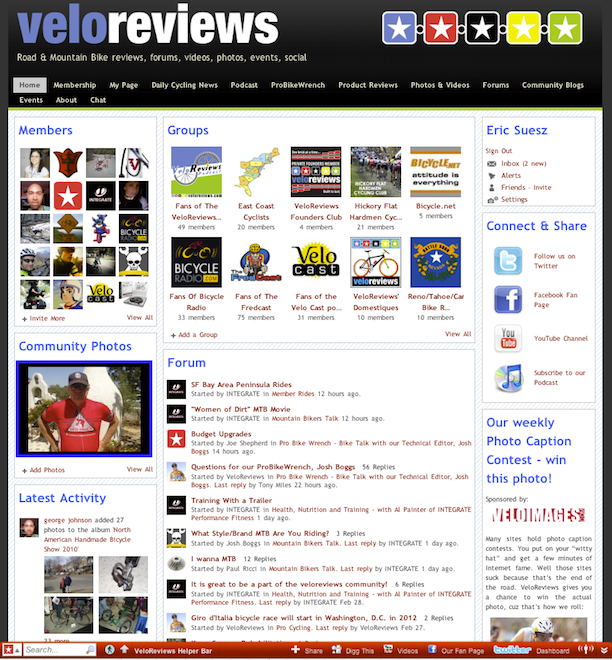 I'm in the market for a bicycle. I have a new job, which requires a bit of a commute. Why not keep in shape and weave through San Francisco city traffic faster than most cars?
Unfortunately, I have no idea what kind of bike I need. Bikes are way more complicated and sophisticated than they were even ten years ago. While stumbling through Google looking for reliable reviews on bikes, I happened upon a site with some great bike reviews. What's interesting about this site, VeloReviews, is that they have a way of identifying legitimate customer reviews and weeding out any that appear to be fake or posted by anyone who might have a stake in gaming a review system. Simply put, they have a way to bring more reliable customer reviews to people like me, and that's very valuable.
The bike reviews were only part of the site's appeal, though. They have a real community of bikers sharing information and advice about all the finer points of two-wheeled life — and they're using Ning as their focal point. I dug into the site more and was surprised at how social-media savvy these Network Creators are. If you are a Ning Network Creator and want a model to follow for making your Ning Network more "social," you can probably learn a thing or two from how they've done it.
Here's a few smart things they've done:
Connect & share: They link out to Twitter, Facebook, YouTube — you name it. They're covering all the social-media bases.
Contest with a twist: They've started a unique photo caption contest. They put up a photo and entrust their members with the fun job of coming up with a witty, pithy caption. Then, they send the winner a print of the actual high-quality photo. The winner gets more than just bragging rights.
Clever use of widgets: They use a PollDaddy widget for polls. They provide a Page for members to plan their own bike outing via a MapMyRide widget. They pull in a customized Daily Cycling News feed on a separate Page with a widget from rssinclude.com. They even use a Wibiya widget that appears as a strip at the bottom of the page, which allows for numerous sharing options, including a way for members to Digg VeloReviews.
Striving for a big audience: They have an ongoing Friday night chat sessions, and they started recording a podcast, which was recently featured as a New Release on the iTunes Store. They also actively ask for feedback and participation from members about what to spotlight and talk about in the podcast.
All of these details undoubtedly foster a ton of participation. They're trying out all kinds of new and different ways to reach people via social media channels who share their passion for biking. Some techniques will probably work better than others. What's great about the Ning Platform is that you can easily try new techniques — install apps and widgets and experiment with new content — and then stick with the strategies that work best.
One other thing they do, which doesn't require any fancy tech skills and can be done by anyone who's running a Ning Network: They've created a clear, compelling mission statement that invites people in. Here's an excerpt from their About page:
VeloReviews' mission is to help cyclists of all levels find the best products for YOUR needs, meet people who share YOUR passion, and discover places and events to enjoy YOUR Sport.
Notice the focus on the members. I like the fact that VeloReviews is all about YOU. They clearly care. That detail especially made me want to join their Ning Network. So I did.
VeloReviews seems to be doing everything right, and they're doing it with Ning as the hub of their online activity. Well done! I'll let you know when I've found the right bike. I'll even write a review.