Guest Post: Create A University Class Ning Network
Guest Posts
Today's guest blog comes from Jack Hadley, CEO of Lava7 and an adjunct professor at BYU. We frequently hear about educators using Ning in the classroom, but it's rare to find out just how effective using a Ning Network in a school setting is. That's why it was so exciting to read a recent post from Jack, explaining how he used a Ning Network in an advertising class he taught at BYU. Jack's post not only included how he used it, but what his students thought of it — and if they'd recommend it. After reading, we asked him to pen a similar post for the Ning Blog.

Powerful social media tools like Ning, Twitter, blogging and Ustream aren't just for socializing and marketing. They facilitate fundamental shifts in the way people are connecting and communicating—shifts that can improve university learning.
I just completed a four-month exercise in a Comms230 class I teach at Brigham Young University. I designed and built a Ning network (with the help of our Lava7 team) to use as the foundation for our class. My goal was threefold—to better engage students with the subject matter (and with each other), to help students begin creating personal online brands, and to digitally centralize and manage day-to-day class functions.
There were 49 students enrolled in our class. Last week I asked them to answer three questions about their experience using our Ning network. It's important to note that I instructed them NOT to put their names on their responses. I wanted candid, honest feedback without brownie-point undertones. 43 students were in attendance that day.
A representative handful of those responses are highlighted in the boxes below.

Uber-Engaged Students
The three questions I asked were open ended:
What did you like, or not like, about the Ning network we used this semester in class?
What did you like, or not like, about blogging on our Ning network this semester.
Would this type of social network be useful in your other classes? Why, or why not?
100 percent of the students (43 of 43) answered "yes" to question #3 (and included supporting reasons). Approximately 98 percent of the 140+ comments I received could be described as "enthusiastically positive" about their experience.
Most of the students in our class had never blogged before. Hundreds of posts and comments later, blogging was the network component that made the biggest difference and had the most profound effect on their experience. My advice? If you use a Ning network in a university class, encourage (or better yet, require) blogging.

The Beginnings of Personal Online Brands
Teach students the concept of creating personal, online brands. It doesn't matter what subject you teach. New media tools have changed the rules. What happens in Vegas no longer stays in Vegas. Help students discover how to use social media tools to their advantage. Your Ning class network can be a great starting point.
Dan Schawbel calls this process personal brand discovery — figuring out what you're good at and what contribution you can make to your profession and to the world.
Then, help students start building that brand online. And when a potential future employer is evaluating 10 similar resumes or portfolios, your students (with the beginnings of thoughtful, relevant online brands) will be more favorably considered.

Effective Functionality
I'm assuming that you already have some familiarity with Ning's basic functionality. For example, you already know that the Forum tool is a great place to introduce fresh discussion topics. Here are a few additional outside resources we leveraged on the network: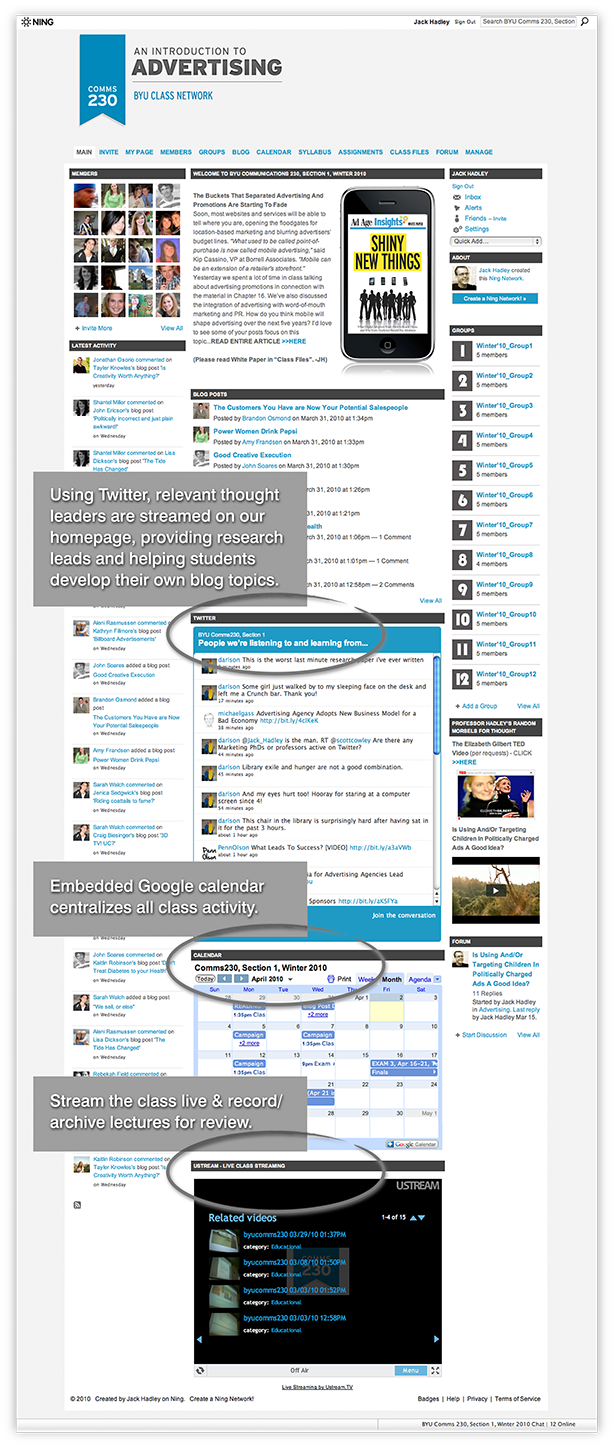 Twitter – I'm not a Twitter junkie, but for me it's an incredibly powerful research tool. I created a Twitter account for the class, then followed a handful of thought leaders who tweet and blog about topics that I felt were relevant and interesting for our class. Then, I embedded the stream on the home page. The Twitter feed also provided good leads for students to research and develop their own blog posts.
Google Calendar – There are lots of ways to include a calendar. I used an embedded Google calendar. If you don't have a Google account, it's easy to set one up, create a calendar, then embed the calendar on your Ning network. Edits automatically update with one step. I listed assignment due dates, group presentation dates, reading assignments, and class lecture topics for the entire semester — everything in one place.
Ustream – Although class attendance was mandatory, I wanted to be able to live stream, record, and archive the lectures when someone couldn't attend. Doing so also allowed students to review lecture materials before exams. Ustream was a simple answer. No professional recording equipment needed—just a cheap firewire camera, a laptop, and a free Ustream account.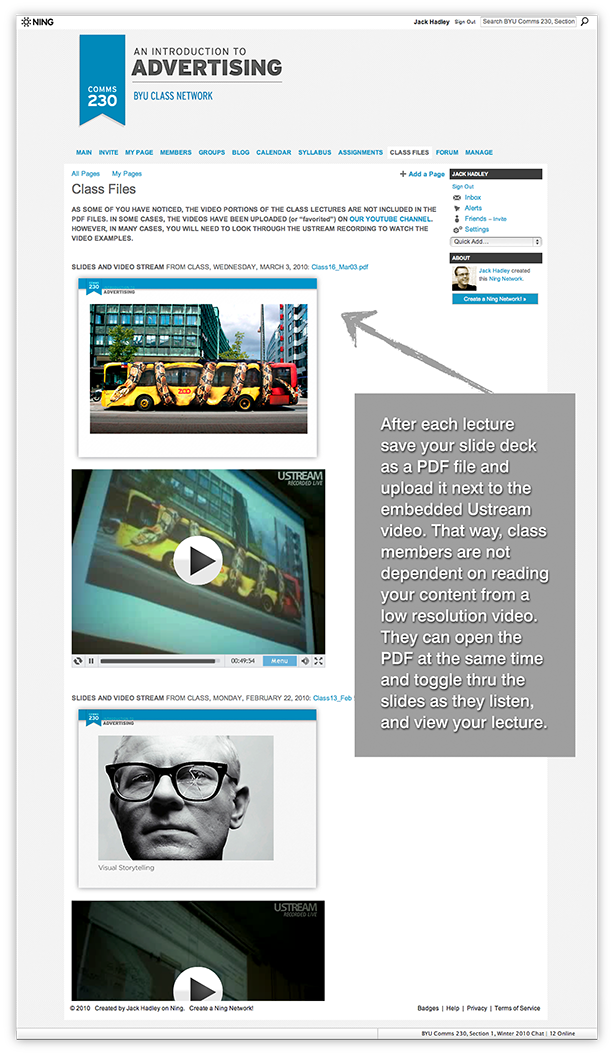 Build Your Own University Class Ning Network
As you build your network, here are a couple of suggestions:
Don't Undervalue Good Design
When it comes to usability, and increasing the liklihood class members will embrace (and be proud of) their network, don't underestimate the importance of good design. If you don't have the design skill set to customize the look of your network, get some help. Contact your school's graphic design program. They'll have anxious students looking for portfolio projects. The work your students post on the network will become part of their personal resumes or portfolios. As they begin job hunting, they'll want to share these links to their work and blog posts without reservation. Design matters.
Funnel Everything You Can Through the Network
Encourage students to use the network by constantly reminding them that the fastest and easiest way to get responses from you, or your TA, is to ping you through the network. Then, forward alerts to your smartphone and respond quickly. I found that being able to answer questions on the fly was helpful to students and engaged them more with the network.
Give your copier a rest! Before you automatically (out of habit) make copies of anything, ask yourself if the information could be distributed using the network through an addition to your Syllabus tab, through a blog post, as a broadcast message or a linked file. The more you use the network, the more your students will. You'll also save a couple of trees in the process.
Recognize That New Media Tools Are Changing Education
Social media mindset, tools, and strategy are changing education. Thoughtful implementation of Ning networks in university classrooms can greatly enhance engagement and learning. Build one and see!
If you're interested in reading more of the students' responses, you can find a partial list here.
What other things are you doing with such networks in the classroom? Please share, and help us all become better educators.